The Lean Dairy Farm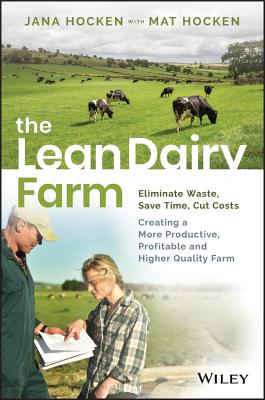 The Lean Dairy Farm
Out of Stock In Store
Make your farm better, smarter, and more productive
The Lean method is revolutionising farming globally with its proven approach for reducing waste, improving productivity and sustaining profits.In The Lean Dairy Farm, dairy farmer and Lean consultant Jana Hocken explains why this approach is essential to every dairy farm and how to apply these tools, practices and principles to your dairy operation.
The Lean Dairy Farm helps reduce the common problems and stressors faced by farmers every day: long work hours, high staff turnovers, repeat problems, breakdowns, wastage, safety and high costs. Using her own family's dairy farm as a case study, Jana provides insight into how the Lean approach applies to farming, introduces practical tools to help you improve efficiency and reduce waste, and shows you how to create a farm culture that supports Lean thinking.
Even if Lean is entirely new to you, this book offers a simple blueprint for applying its principles and practices to improve your farm.
Quickly make use of basic Lean concepts on your farm
Identify and eliminate waste in farm processes
Organise your farm effectively to improve productivity
Standardise your processes to do everything right the first time
Develop an engaged, high performing team
If you want a more efficient, profitable and robust dairy farm, The Lean Dairy Farm is for you.
JANA HOCKEN is a veteran Lean business consultant with a background in Toyota, who has assisted hundreds of companies across Australia, New Zealand, Asia, America and Europe. She has been a speaker at numerous events and in 2017 developed the successful LeanFarm training program specifically for farmers. MAT HOCKEN is a 4th generation farmer and 2017 Nuffield scholar. As well as embracing Lean on the farm, Mat aims to inspire farmer-led innovation, through projects such as The Rural Innovation Lab and FarmCave.
ISBN: 9780730368410
ISBN-10: 9780730368410
Publisher: Wiley
Publication Date: 04/15/2019 - 12:00am
On Sale: 04/01/2019 - 12:00am
Pages: 424
Language: English
Categories
Agriculture - Animal Husbandry