Why Is It Always About You?: The Seven Deadly Sins of Narcissism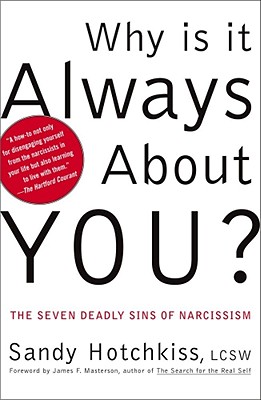 Why Is It Always About You?: The Seven Deadly Sins of Narcissism
Out of Stock In Store (Available to Order)
In this groundbreaking book -- the first popular book on narcissism in more than a decade -- clinical social worker and psychotherapist Sandy Hotchkiss shows you how to cope with controlling, egotistical people who are incapable of the fundamental give-and-take that sustains healthy relationships. Exploring how individuals come to have this shortcoming, why you get drawn into their perilous orbit, and what you can do to break free, Hotchkiss describes the "Seven Deadly Sins of Narcissism" and their origins. You will learn to recognize these hallmarks of unhealthy narcissism -- Shamelessness, Magical Thinking, Arrogance, Envy, Entitlement, Exploitation, Bad Boundaries -- and to understand the roles that parenting and culture play in their creation.
Whether the narcissist in question is a coworker, spouse, parent, or child, Why Is It Always About You? provides abundant practical advice for anyone struggling to break narcissism's insidious spread to the next generation, and for anyone who encounters narcissists in everyday life.
A prominent psychiatrist, James F. Masterson was born in Pennsylvania and educated at the University of Notre Dame and Jefferson Medical College. As a psychiatrist, Masterson became an authority on the treatment of personality disorders. He founded the Masterson Institute for Psychoanalytic Psychotherapy in 1977 and he wrote seven influential texts during his career. He died in 2010.
ISBN: 9780743214285
ISBN-10: 9780743214285
Publisher: Free Press
Publication Date: 08/07/2003 - 12:00am
On Sale: 08/07/2003 - 12:00am
Pages: 240
Language: English
Categories