Puzzle Baron's Gigantic Book of Logic Puzzles: 600+ Brain Challenges for Hours of Fun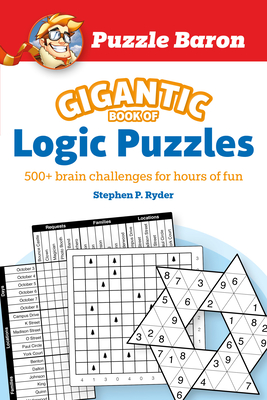 Puzzle Baron's Gigantic Book of Logic Puzzles: 600+ Brain Challenges for Hours of Fun
Out of Stock In Store
This will solve your desire for endless logic puzzles!
 
If you've bought any of the Puzzle Baron's previous puzzle books—on logic puzzles, sudoku, cryptograms, number logic puzzles, acrostics, or picture puzzles—you know just what to expect from the great puzzlemaker. If this is your first time getting to know the Puzzle Baron, you're in for an adventure.
 
Among the 600+ puzzles in this book, not only will you find the classic grid-based puzzles and sudoku, but you can also try calcudoku, lasergrids, skyscrapers, campsite puzzles, and many other different kinds of logic puzzles. Plus, there's an answer section for all the puzzles, which can also help with hints.
 
If you've been wanting to try the myriad types of logic puzzles or if you need new challenges from the Puzzle Baron, this is the book for you!
Stephen P. Ryder is the founder and editor of the Puzzle Baron network of websites (PuzzleBaron.com). These sites focus primarily on textual games and puzzles, including word searches, acrostics, cryptograms, logic puzzles, drop quotes, Sudoku, patchwords, and many more. The Puzzle Baron network serves more than 6 million visitors annually, along with an extremely dedicated user base of more than 150,000 registered players who compete against each other for record scores and times. Ryder has published several puzzle books with DK, including the bestselling Puzzle Baron's Logic Puzzles.
ISBN: 9780744042573
ISBN-10: 9780744042573
Publisher: Alpha
Publication Date: 07/05/2022 - 12:00am
On Sale: 07/05/2022 - 12:00am
Pages: 480
Language: English
Categories
Games & Activities / Logic & Brain Teasers