DKFindout! Arctic and Antarctic (DK findout!)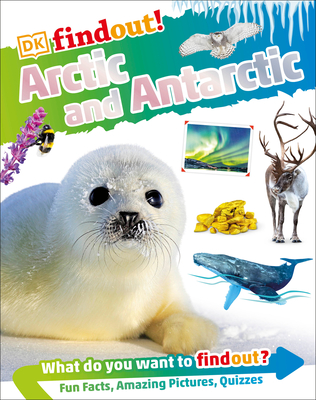 DKFindout! Arctic and Antarctic (DK findout!)
A fact-packed book that explores some of the coldest places on Earth, and the latest title in the award-winning DKfindout! series.

Journey to the icy lands at the ends of the Earth and learn all about life at the poles.

Explore Earth's polar regions—from amazing wildlife to the heroic explorers who ventured there. Discover snowy mountains, frozen seas, and icebergs bigger than skyscrapers!

Children will meet the remarkable animals that survive and thrive in the harsh conditions of these icy worlds. There's the giant polar bear using its large padded paws to trek many miles across the ice and snow, and the Arctic tern whose incredible flight from one side of the world to the other, is the longest animal migration in the world.

Learn all about the spectacular natural light displays that transform the night skies near the North and South Poles, then find out why the Arctic experiences an entire day of darkness at the same time as the Antarctic sees 24 hours of brilliant sunshine. Packed with incredible information, and stunning scenes, DKfindout! Arctic and Antarctic offer a unique look into the fascinating life on, above, and under the ice.
We believe in the power of discovery. That's why we create books for everyone that explore ideas and nurture curiosity about the world we live in.
 
From first words to the Big Bang, from the wonders of nature to city adventures, you will find expert knowledge, hours of fun and endless inspiration in the pages of our books. 

https://www.dk.com/