Transatlantic Transcendentalism: Coleridge, Emerson, and Nature (Edinburgh Studies in Transatlantic Literatures)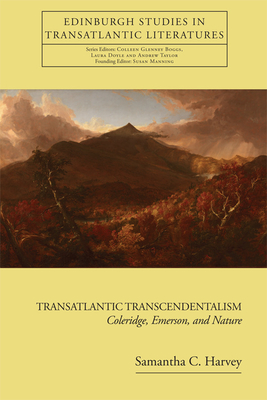 Transatlantic Transcendentalism: Coleridge, Emerson, and Nature (Edinburgh Studies in Transatlantic Literatures)
The first book devoted to Coleridge's influence on Emerson and the development of American Transcendentalism
As Samantha Harvey demonstrates, Samuel Taylor Coleridge's thought galvanized Emerson at a pivotal moment in his intellectual development in the years 1826-1836, giving him new ways to harmonize the Romantic triad of nature, spirit and humanity. Emerson did not think about Coleridge: he thought with Coleridge, resulting in a unique case of assimilative influence. In addition to examining his specific literary, philosophical, and theological influences on Emerson, this book reveals Coleridge's centrality for Boston Transcendentalism and Vermont Transcendentalism, a movement which profoundly affected the development of modern higher education, the national press, and the emergence of Pragmatism.
Key Features
*Illuminates how the emerging field of transatlantic studies has opened new circulatory spaces to reconsider the relationship between Coleridge and Emerson
*Asserts Coleridge as the single most important influence on Emerson's early essays
*Examines the centrality of nature in the dynamic context of Transatlantic Romanticism
*Highlights the essential but overlooked legacy of Coleridge's dynamic principles of method for Emerson and for Boston and Vermont Transcendentalism

Samantha Harvey is an assistant professor of English Literature at Boise State University. She is the editor of Coleridge's Responses: Coleridge on Nature and Vision (London: Continuum, 2008).
ISBN: 9780748681365
ISBN-10: 9780748681365
Publisher: Edinburgh University Press
Publication Date: 06/11/2013 - 12:00am
On Sale: 06/11/2013 - 12:00am
Pages: 232
Language: English
Categories