Not A Good Look (Fab Life #1)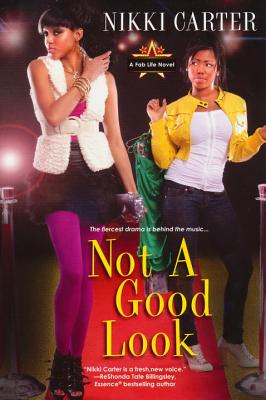 Not A Good Look (Fab Life #1)
Out of Stock In Store
One gifted girl, one super diva, one ego too many...
She's got mad talent, her own singing group, and honor roll grades. Sunday Tolliver is this close to making her music industry career dreams come true-until her mother spends her entire college fund. Now Sunday's only chance to get to college means slaving as a "personal assistant" to her diva cousin, Dreya. And since Dreya just got the record deal of a lifetime and an upcoming tour with hip-hop's biggest rapper, Truth, Sunday is sure Dreya's ego-trippin', among other things, couldn't get worse. But when bad boy Truth starts pushing up on Sunday and her life becomes "Paparazzi Blogs Gone Wild," a jealous Dreya is on the warpath. Can Sunday make the right moves before her dreams go up in smoke for good?
Praise for Nikki Carter
"Step to This is hot, it's new, it's now...with characters that leap from the pages, it's absolutely a must-read." --Monica McKayhan,
Essence
bestselling author "Nikki Carter is a fresh, new voice." --ReShonda Tate Billingsley,
Essence
bestselling author "Literally and figuratively, drama is on high alert in the first installment of Nikki Carter's hot new teen series, The Fab Life. An undeniable page-turner,
Not A Good Look
is sure to capture the attention of every teen who's ever dreamed of becoming hip-hop's next overnight superstar. Readers are certain to fall in love with Sunday and her diva cousin, Dreya, just as fast as the many cute boys in their lives." --Mitzi Miller,
Essence
(c) bestselling author.
Nikki Carter has been a book-lover since she was in elementary school. Her favorite stories are fun, fresh, and full of drama. When she's not writing, Nikki enjoys reading, shopping, and hanging out by the pool. Nikki lives and loves in Dallas, Texas.