How to Rebuild & Modify Ford Flathead V-8 Engines (Motorbooks Workshop)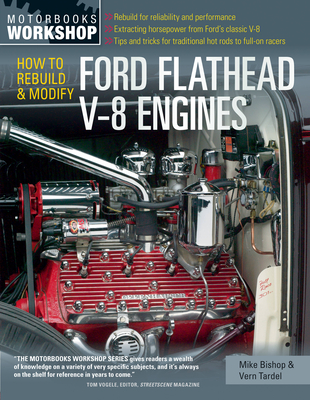 How to Rebuild & Modify Ford Flathead V-8 Engines (Motorbooks Workshop)
Out of Stock In Store (Available to Order)
The ultimate Ford flathead resource for hot rodders and restorers.
The last commercially produced Ford Flathead V-8 was cast over 60 years ago. Simple by today's high-tech standards, during its performance reign from the late '30s through the mid '50s, the flathead was unsurpassed for go-fast power on the cheap. It spawned the modern aftermarket speed-equipment industry and became a favorite of bootleggers, dry-lakes racers, dirt trackers, street racers, and a whole generation that just wanted fast cars.
Whether you're restoring a classic Ford, building a traditional hot rod, or creating a period custom car, you'll want to get the most out of its vintage flathead V-8. In How to Rebuild & Modify Ford Flathead V-8 Engines, authors Mike Bishop and Vern Tardel, two of the most highly-regarded experts in hot rodding, give you the detailed and accurate information you need to build, restore, or just daydream about the engine that gave birth to hot rodding.
Every aspect of buying, building, and owning a flathead V-8 engine is extensively covered. Go through the basics of selecting the right engine for the right project, building and rehabilitating engines, and final tuning. Diagrams and color photos bring these legendary engines to life for the hands-on hobbyist, collector, and aficionado.
Keep it mild or build it wild, but either way, How to Rebuild & Modify Ford Flathead V-8 Engines will help ensure your flathead is delivering the power you need.
Mike Bishop is a lifelong technoid gearhead scribe. He has been the senior editor for the Saturn V press-information package, author of over 30 how-to books on motorcycles, cars, trucks, and snowmobiles, an editor and feature writer for motorcycle and hot-rod magazines, and an award-winning writer/producer of service and sales training videos for the import automobile and motorcycle industries. He is the author of How to Build a Traditional Ford Hot Rod (Motorbooks, 2000).
Vern Tardel and his crew of "middle-aged adolescents" have been building flathead-powered rods since they were the new, hot-ticket item instead of a nostalgic throwback. He is considered among the premiere builders of traditional-style hot rods. More information about Vern can be found on his website, www.verntardel.com.
ISBN: 9780760343999
ISBN-10: 9780760343999
Publisher: Motorbooks
Publication Date: 06/15/2015 - 12:00am
On Sale: 06/15/2015 - 12:00am
Pages: 208
Language: English
Categories
Transportation / Automotive / Customizing