Moonshots: 50 Years of NASA Space Exploration Seen through Hasselblad Cameras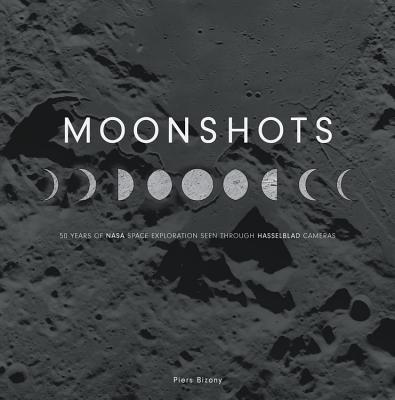 Moonshots: 50 Years of NASA Space Exploration Seen through Hasselblad Cameras
Moonshots presents stunning photos of space and Earth from NASA's archives - taken by Gemini, Apollo, Space Shuttle, and ISS astronauts using high resolution Hasselblad cameras.

In December 1968, the crew of Apollo 8 captured images depicting Earth hanging like a lonely fruit in the vast darkness of space. The social and spiritual shock of that photograph—and those which followed—never fully diminished, even as Apollo missions followed at an incredible pace, including the first lunar landing on July 20, 1969.
 
Moonshots is the definitive photographic chronicle of NASA space exploration—a giant slipcased book featuring more than 200 remarkable photographs from that eventful era created almost exclusively on large-format Hasselblad cameras. Though a number of these images have been reproduced in books and magazines over the years, one attribute of this incredible collection has seldom been exploited: the sheer size and resolution of the photography. Aerospace author Piers Bizony scoured NASA's archives of Hasselblad film frames to assemble the space fan's ultimate must-have book—a gorgeous large-format hardcover presented in a heavy slipcase with die-cuts to represent the phases of the moon.
 
This resulting volume extracts a stunning selection of photographs captured by astronauts using Hasselblad equipment, many of them seldom previously published, let alone in such a lavish package. The Apollo voyages form the centerpiece of this amazing collection, but equally fabulous images from precursor Gemini missions are also featured, along with later photographs chronicling Space Shuttle missions and even the construction of the International Space Station.
Piers Bizony is an experienced multimedia professional who has written about science and the history of technology for a wide variety of publishers worldwide, and has undertaken major projects for the media departments at NASA and ESA. He has also gained substantial experience within the film and television industries. The author of Quarto's Space Shuttle: Celebrating Thirty Years, One Giant Leap: Apollo 11 Remembered, and New Space Frontiers, Bizony has also worked closely with the family of Stanley Kubrick, in conjunction with Warner Bros. and fine art publishers Taschen on a large-format book about the making of 2001: A Space Odyssey.