Ignite Your Light: A Sunrise-to-Moonlight Guide to Feeling Joyful, Resilient, and Lit from Within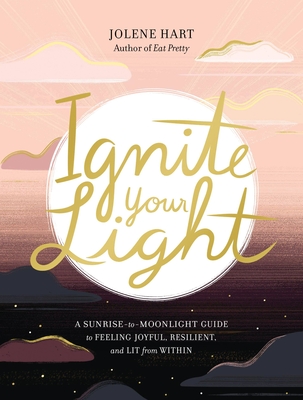 Ignite Your Light: A Sunrise-to-Moonlight Guide to Feeling Joyful, Resilient, and Lit from Within
Out of Stock In Store
Light up your life—and your self —with this joy-filled guide to beauty, healing, and personal energy thatincludes delicious recipes, immune-strengthening wellness rituals, and practical steps for building a better world.

Each page of this book is packed with inspiration and insights on the central role of energy in the way you look, feel, and experience life. Ignite Your Light guides you to seek more of what lights you up, to grow the resilience of your mind, body, emotions, and spirit, and to refresh your routine from sunrise to moonlight, featuring:
 
Delicious recipes that support glowing skin and optimal health
Fresh takes on self-care rituals, from yoga nidra to skin care as energy release
Inspiration-packed profiles of the 13 leading factors that power your inner light
Simple shifts that improve your long-term health and happiness via your mindset, actions, environment, and relationships
Filled with colorful illustrations and photos,
Ignite Your Light
is both a beautiful and practical guide for anyone who wants to positively influence their own energy, grow the beauty in their daily life, and shine their light on the world around them.  
Jolene Hart, CHC, is a health coach certified by the Institute for Integrative Nutrition, a former magazine beauty editor, and founder of the coaching practice Beauty Is Wellness (jolenehart.com). She is the author of the bestselling Eat Pretty book series. Her work has been praised by InStyle, Martha Stewart Living, People, Refinery29, Mind Body Green, and many more publications in print and online. Jolene's coaching and writing looks at many areas of life, from stress, mindset, and hormones to diet, digestion, and personal care products, enabling readers to build a lifestyle that supports looking and feeling their best from the inside. She lives near Philadelphia, PA.