Powerful Prayers for Your Son: Praying for Every Part of His Life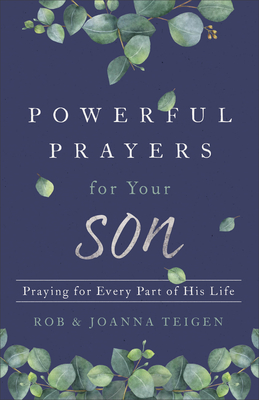 Powerful Prayers for Your Son: Praying for Every Part of His Life
Parents know that their children need their prayers. But sometimes, they aren't sure where to start. For moms and dads who long to lift their kids up in prayer, Powerful Prayers for Your Daughter and Powerful Prayers for Your Son offer hope, encouragement, and practical help.

Rob and Joanna Teigen assure parents that just because they don't always understand their son or daughter, that doesn't mean that God doesn't. Collecting specific prayers parents can use, along with stories from other parents about how God has answered their prayers, Rob and Joanna give readers a strong foundation to build a lifelong habit of praying for their kids. They also explain what boys and girls need to learn as they grow up, including character, courage, modesty, self-control, forgiveness, and more, so parents can pray for every part of their kids' lives.
Rob Teigen was a publishing professional for more than twenty years and is the author of the bestselling Laugh-Out-Loud Jokes for Kids series (under the pseudonym Rob Elliott). He and his wife, Joanna Teigen, have celebrated twenty-five years of marriage and have five kids who bring adventure to their lives in West Michigan. Together they create resources to encourage couples and families, including 88 Great Daddy-Daughter Dates. Learn more at www.growinghometogether.com.
ISBN: 9780800735432
ISBN-10: 9780800735432
Publisher: Fleming H. Revell Company
Publication Date: 04/16/2019 - 12:00am
On Sale: 04/16/2019 - 12:00am
Pages: 198
Language: English
Categories
Christian Living - Family & Relationships