Blitzkrieg: Myth, Reality, and Hitler's Lightning War: France 1940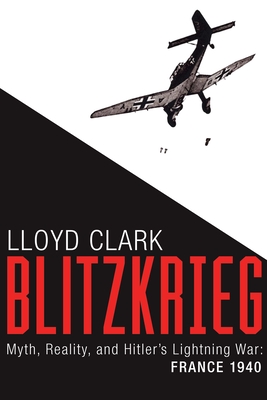 Blitzkrieg: Myth, Reality, and Hitler's Lightning War: France 1940
On Our Shelves Now
In the spring of 1940, Nazi Germany launched a military offensive in France and the Low Countries that married superb intelligence, the latest military thinking, and new technology. In just six weeks the Nazis outflanked the large French army, sewed chaos, and took Paris, achieving what the Germans had failed to accomplish in all four years of the First World War. The Fall of France was a stunning victory. It altered the balance of power in Europe in one stroke and convinced the entire world that the Nazi war machine was unstoppable.
But as Lloyd Clark, a leading British military historian and academic, argues in
Blitzkrieg
, much of our understanding of this victory, and blitzkrieg itself, is based on myth. The tactic was not really new, and far from being a forgone victory, Hitler's invasion was incredibly risky and could easily have failed had the Allies been even slightly less inept or the Germans less fortunate. And while speed and mechanization were essential, ninety percent of Germany's ground forces were still reliant on horses, bicycles, and their own feet for transportation. Their surprise victory proved the apex of their achievement; far from being undefeatable, Clark argues, the campaign revealed Germany's vulnerabilities, lessons not learned by Hitler as he began to plan for the invasion of the Soviet Union. A definitive history of the events of 1940,
Blitzkrieg
is Lloyd Clark at his best.
Lloyd Clark is a senior academic in the Department of War Studies at the Royal Military Academy Sandhurst and professorial research fellow in War Studies at the University of Buckingham's Humanities Research Institute. One of the UK's leading military historians, he is the author of several books, including The Battle of the Tanks, Crossing the Rhine, and Anzio.
ISBN: 9780802127211
ISBN-10: 9780802127211
Publisher: Grove Press
Publication Date: 09/19/2017 - 12:00am
On Sale: 09/19/2017 - 12:00am
Pages: 480
Language: English
Categories