The Ring Makes All the Difference: The Hidden Consequences of Cohabitation and the Strong Benefits of Marriage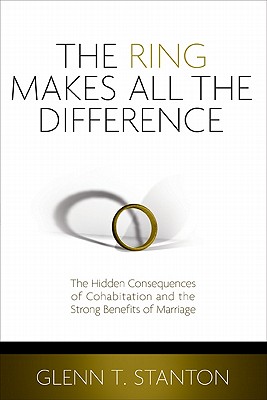 The Ring Makes All the Difference: The Hidden Consequences of Cohabitation and the Strong Benefits of Marriage
Backordered
Why not cohabitate?
Many believe nothing is better for their future marriage than a trial period—cohabitation. It's the fastest growing family type in the U.S. So how's that working out? Are people truly happier?
Author Glenn Stanton offers a compelling factual case that nearly every area of health and happiness is increased by marriage and decreased by cohabitation.
With credible data and compassion, Stanton explores the reasons why the cohabitation trend is growing; outlines its negative outcomes for men, women, and children; and makes a case for why marriage is still the best arrangement for the flourishing of couples and society.
This resource is ideal for those who are cohabitating or considering it, as well as pastors and counselors who need to be able to engage this issue.
GLENN T. STANTON is the director for Family Formation Studies at Focus on the Family in Colorado Springs and is directing a major research project on international family formation trends at the Institute of Marriage and Family in Ottawa. He debates and lectures extensively on the issues of gender, sexuality, marriage and parenting at universities and churches around the country. He served the George W. Bush administration for many years as a consultant on increasing fatherhood involvement in the Head Start program. Glenn is an author and contributor to many books and is quoted as a leading spokesperson on marriage and family issues. Glenn and his wife have five children and live in Colorado Springs, Colorado.
ISBN: 9780802402165
ISBN-10: 9780802402165
Publisher: Moody Publishers
Publication Date: 09/01/2011 - 12:00am
On Sale: 09/01/2011 - 12:00am
Pages: 152
Language: English
Categories