Exploring Stone Walls: A Field Guide to New England's Stone Walls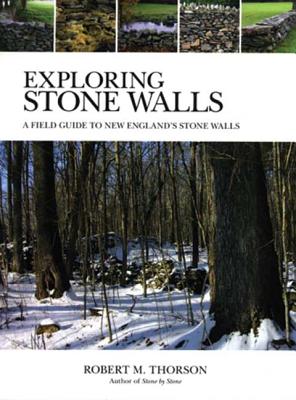 Exploring Stone Walls: A Field Guide to New England's Stone Walls
The only field guide to stone walls in the Northeast.
"Every stone wall is unique and every stone tells a story," says Robert M. Thorson, the author of the first field guide to historic New England stone walls-- one that helps you identify and appreciate those in your yard, neighborhood, and throughout the Northeast.
Exploring Stone Walls is like being in Thorson's geology classroom, as he presents the many clues that allow you to determine any wall's history, age, and purpose. Thorson highlights forty-five places to see interesting and noteworthy walls, many of which are in public parks and preserves, from Acadia National Park in Maine to the South Fork of Long Island. Visit the tallest stone wall (Cliff Walk in Newport, Rhode Island), the most famous (Robert Frost's mending wall in Derry, New Hampshire), and many more. This field guide will broaden your horizons and deepen your appreciation of New England's rural history.
Robert M. Thorson is the winner of the 2003 Connecticut Book Award for Stone by Stone: The Magnificent History of New England's Stone Walls. He is a professor of geology at the University of Connecticut and cofounder of the Stone Wall Initiative, which supports the appreciation and preservation of historic walls. He writes a weekly op-ed column for The Hartford Courant.
ISBN: 9780802777089
ISBN-10: 9780802777089
Publisher: Bloomsbury Publishing
Publication Date: 02/01/2005 - 12:00am
On Sale: 02/01/2005 - 12:00am
Pages: 208
Language: English
Categories