A Map of the Child: A Pediatrician's Tour of the Body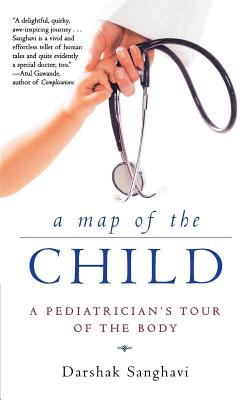 A Map of the Child: A Pediatrician's Tour of the Body
Out of Stock In Store (Available to Order)
"A delightful, quirky, awe-inspiring journey . . . Sanghavi is a vivid and effortless teller of human tales and quite evidently a special doctor, too." —Atul Gawande, author of Complications

In this compelling book, Dr. Darshak Sanghavi takes the reader on a dramatic tour of a child's eight vital organs, beginning with the lungs and proceeding through the heart, blood, bones, brain, skin, gonads, and gut.

Along the way, we meet children and families in extraordinary circumstances—a premature baby named Adam Flax who was born with undeveloped lungs, a teenage boy with a positive pregnancy test, and a young girl who keeps losing weight despite her voracious appetite. In a deeply personal narrative, Sanghavi provides a richly detailed—and humanized—portrait of how the pediatric body functions in both sickness and health.
Darshak Sanghavi graduated from Harvard and Johns Hopkins University. He has done medical research in Japan, India, Kenya, and Peru, and until recently was a pediatrician for the U.S. Indian Health Service, during which time he lived on a Navajo reservation in New Mexico. Sanghavi is currently practicing pediatric cardiology at Boston's Children's Hospital and lives in Boston with his wife and son. He writes regualary for The Boston Globe and is a frequent guest on NPR.
ISBN: 9780805075113
ISBN-10: 9780805075113
Publisher: Holt Paperbacks
Publication Date: 01/01/2004 - 12:00am
On Sale: 01/01/2004 - 12:00am
Pages: 320
Language: English
Categories