The Surrender Tree: Poems of Cuba's Struggle for Freedom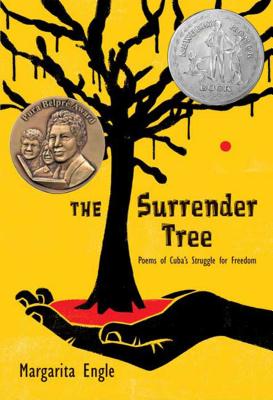 The Surrender Tree: Poems of Cuba's Struggle for Freedom
It is 1896. Cuba has fought three wars for independence and still is not free. People have been rounded up in reconcentration camps with too little food and too much illness. Rosa is a nurse, but she dares not go to the camps. So she turns hidden caves into hospitals for those who know how to find her.
Black, white, Cuban, Spanish—Rosa does her best for everyone. Yet who can heal a country so torn apart by war? Acclaimed poet Margarita Engle has created another breathtaking portrait of Cuba.
The Surrender Tree is a 2009 Newbery Honor Book, the winner of the 2009 Pura Belpre Medal for Narrative and the 2009 Bank Street - Claudia Lewis Award, and a 2009 Bank Street - Best Children's Book of the Year.
Margarita Engle is a Cuban American poet, novelist, and journalist whose work has been published in many countries. She is the author of young adult nonfiction books and novels in verse including The Surrender Tree, a Newbery Honor Book, The Poet Slave of Cuba, Hurricane Dancers, The Firefly Letters, and Tropical Secrets. She lives in northern California.