Relinquenda: Poems (National Poetry Series #7)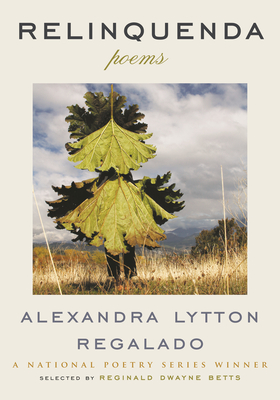 Relinquenda: Poems (National Poetry Series #7)
Out of Stock In Store
A 4-part poetry collection that explores women's roles in familial dynamics, immigration, and El Salvador's civil war while reflecting on the death of the poet's father

A National Poetry Series winner, selected by the celebrated poet Reginald Dwayne Betts

When COVID-19 broke and the United States closed the border to travel, Alexandra Lytton Regalado was separated from family back in El Salvador. She wrote Relinquenda entirely during lockdown as a meditation on cancer, the passing of her father, and the renewed significance of community.

The central part of the collection focuses on her father during his 6-year struggle with cancer and considers how his stoicism, alcoholism, and hermitage might serve as mirror and warning. In contrast, she dedicates other poems to what it means for daughters, mothers, and wives to care for another as reflected in her relationships with the men in her life.

Situated in the tropical landscapes of Miami, Florida and El Salvador, the poems also negotiate the meaning of home, reflecting on immigration and the ties between United States and El Salvador 30 years after her birth country's decade-long civil war.

In a lyrical and often bilingual voice, Regalado explores the impermanence and the body, communication and inarticulation, and the need to let go in order to heal regrets.
Alexandra Lytton Regalado is author, editor, or translator of more than 15 Central American-themed books. She is also the cofounder and codirector of Editorial Kalina. Her poetry collection, Matria, won the St. Lawrence Book Award. She is a CantoMundo fellow, winner of the Coniston Prize, and her work has appeared in The Best American Poetry, The Academy of American Poets, Narrative, Gulf Coast, and Creative Nonfiction among others. Connect with her online at alexandralyttonregalado.com.