The School I Deserve: Six Young Refugees and Their Fight for Equality in America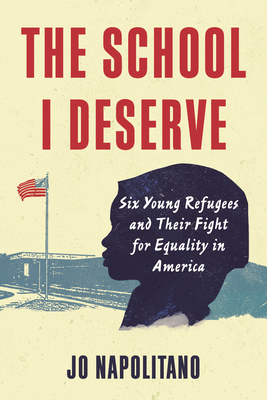 The School I Deserve: Six Young Refugees and Their Fight for Equality in America
Likely On Our Shelves
Uncovers the key civil rights battle that immigrant children fought alongside the ACLU to ensure equal access to education within a xenophobic nation

Journalist Jo Napolitano delves into the landmark case in which the School District of Lancaster, Pennsylvania, was sued for refusing to admit older, non-English speaking refugees and sending them to a high-discipline alternative school. In a legal battle that mirrors that of the Little Rock Nine and Brown v. Board of Education, 6 brave refugee students fought alongside the ACLU and Education Law Center to demand equal access. The School I Deserve illuminates the lack of support immigrant and refugee children face in our public school system and presents a hopeful future where all children can receive an equal education regardless of race, ethnicity, or their country of origin.

One of the students, Khadidja Issa, fled the horrific violence in war-torn Sudan with the hope of a safer life in the United States, where she could enroll in school and eventually become a nurse. Instead, she was turned away by the School District of Lancaster before she was eventually enrolled in one of its alternative schools, a campus run by a for-profit company facing multiple abuse allegations. Napolitano follows Khadidja as she joins the lawsuit as a plaintiff in the Issa v. School District of Lancaster case, a legal battle that took place right before Donald Trump's presidential election, when immigrants and refugees were maligned on a national stage. The fiery week-long showdown between the ACLU and the school district was ultimately decided by a conservative judge who issued a shocking ruling with historic implications. The School I Deserve brings to light this crucial and underreported case, which paved the way to equal access to education for countless immigrants and refugees to come.
Jo Napolitano is an award-winning journalist with more than 20 years of experience at the New York Times, Chicago Tribune, and Newsday. She has written on many topics, but public education remains her primary focus. She first spotted the trend of public schools turning away immigrant children in 2014, when she was a senior reporter for Newsday. Months of research showed the trend was nationwide and won Napolitano a Spencer Education Fellowship to Columbia University to write this book. Connect with her on Twitter @Jo_Napolitano and on Instagram @jonapolitano.