Furious Flower: Seeding the Future of African American Poetry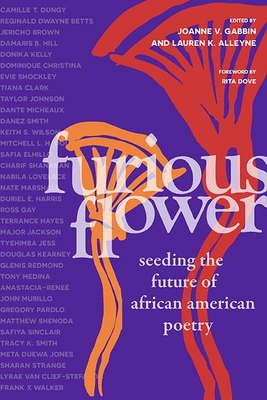 Furious Flower: Seeding the Future of African American Poetry
By Dr. Joanne V. Gabbin ,
Editor Lauren K. Alleyne ,
Foreword by Rita Dove ,
Contributions by John Bracey ,
Iain Haley Pollock ,
Gregory Pardlo ,
A. Van Jordan ,
Glenis Redmond ,
Fred Joiner ,
Frank X. Walker ,
F. Douglas Brown ,
E. Ethelbert Miller ,
Erica Hunt ,
Duriel E. Harris ,
Douglas Manuel ,
Douglas Kearney ,
Dante Micheaux ,
Jericho Brown ,
Jacqueline Jones LaMon ,
Janice N. Harrington ,
Hayes Davis ,
Clemonce Heard ,
DaMaris B. Hill ,
Cynthia Manick ,
Curtis L. Crisler ,
Cortney Lamar Charleston ,
Cornelius Eady ,
CM Burroughs ,
John Murillo ,
Tara Betts ,
t'ai freedom ford ,
Shayla Lawson ,
Sherese Francis ,
Shauna M. Morgan ,
Samantha Thornhill ,
Safiya Sinclair ,
Safia Elhillo ,
Remica Bingham-Risher ,
Randall Horton ,
Raina J. León ,
Phillip B. Williams ,
Donika Kelly ,
Dominique Christina ,
Dexter L. Booth ,
Destiny O. Birdsong ,
Derrick Weston Brown ,
DéLana R. A. Dameron ,
David Mills ,
darlene anita scott ,
Metta Sáma ,
Sharan Strange ,
Candice Wiley ,
Bianca Lynne Spriggs ,
Ana-Maurine Lara ,
Amber Flora Thomas ,
Amaud Jamaul Johnson ,
Amanda Johnston ,
Ama Codjoe ,
Alan W. King ,
Abdul Ali ,
Kwame Dawes ,
Yalie Kamara ,
Xandria Phillips ,
Tyehimba Jess ,
Tracy K. Smith ,
Tony Medina ,
Toi Derricotte ,
Tiana Clark ,
Thylias Moss ,
Teri Ellen Cross Davis ,
Taylor Johnson ,
Cedric Tillman ,
Camille T. Dungy ,
Bettina Judd ,
avery r. young ,
Chanda Feldman ,
Joshua B. Bennett ,
JP Howard ,
Julian Randall ,
Justin Phillip Reed ,
Kamilah Aisha Moon ,
Keith S. Wilson ,
Kevin Simmonds ,
Khadijah Queen ,
Korey Williams ,
Krista Franklin ,
L. Lamar Wilson ,
Lauren Russell ,
Lillian-Yvonne Bertram ,
Lynne Procope ,
Lyrae Van Clief-Stefanon ,
Major Jackson ,
Marcus Jackson ,
Mariahadessa Ekere Tallie ,
Matthew Shenoda ,
Mahtem Shiferraw ,
Mendi Lewis Obadike ,
Meta DuEwa Jones ,
Michael Collins ,
Nabila Lovelace ,
Nandi Comer ,
Natasha Marin ,
Natasha Oladokun ,
Nate Marshall ,
Nagueyalti Warren ,
Nicole Sealey ,
Nkosi Nkululeko ,
Opal Moore ,
Evie Shockley ,
Ladan Osman ,
Rickey Laurentiis ,
Jasmine Richards ,
Terrance Hayes ,
francine j. harris ,
Patricia Spears Jones ,
Patricia Smith ,
Ruth Ellen Kocher ,
Ross Gay ,
Arisa White ,
Saretta Morgan ,
Indigo Moor ,
Marcus Wicker ,
Danez Smith ,
Aricka Foreman ,
Mary Alice Daniel ,
Clint Smith ,
Darrel Alejandro Holnes ,
Reginald Dwayne Dwayne Betts ,
Mitchel L.H. Douglas ,
Charif Shanahan ,
Anastacia Renée ,
Alexis Pauline Gumbs ,
Valencia Robin
Out of Stock In Store (Click to Order)
Furious Flower: Seeding the Future of African American Poetry is an anthology of poems by more than one hundred award-winning poets, including Jericho Brown, Justin Philip Reed, and Tracy K. Smith, with themed essays on poetics from celebrated scholars such as Kwame Dawes, Meta DuEwa Jones, and Evie Shockley. The Furious Flower Poetry Center is the nation's first academic center for Black poetry. In this eponymous collection, editors Joanne V. Gabbin and Lauren K. Alleyne bring together many of the paramount voices in Black poetry and poetics active today, composing an electrifying mosaic of voices, generations, and aesthetics that reveals the Black narrative in the  work of twentieth- and twenty-first-century writers. Intellectually enlightening and powerfully enlivening, Furious Flower explores and celebrates the idea of the Black poetic voice by posing the question, What's next for Black poetic expression?
JOANNE V. GABBIN is the executive director of the Furious Flower Poetry Center and a professor of English at James Madison University. She is the author of the critical biography Sterling A. Brown: Building the Black Aesthetic Tradition and a children's book, I Bet She Called Me Sugar Plum, and the editor of two previous Furious Flower anthologies, The Furious Flowering of African American Poetry and Furious Flower: African American Poetry from the Black Arts Movement to the Present. She also edited Mourning Katrina: A Poetic Response to Tragedy and Shaping Memories: Reflections of African American Women Writers.

LAUREN K. ALLEYNE is the author of two collections of poetry, Difficult Fruit and Honeyfish. Her work has appeared in numerous publications, including the New York Times, The Atlantic, Ms. Muse, Women's Studies Quarterly,  Interviewing the Caribbean, and the Crab Orchard Review. Recent honors for her work include the 2018 Green Rose Prize from New Issues Press, a 2017 Philip Freund Alumni Prize in Creative Writing (Cornell University), the 2016 Split This Rock Poetry Prize, and a Picador Guest Professorship for Literature (University of Leipzig, 2015). She is the assistant director of the Furious Flower Poetry Center and an associate professor of English at James Madison University.