The George Washington Bridge: Poetry in Steel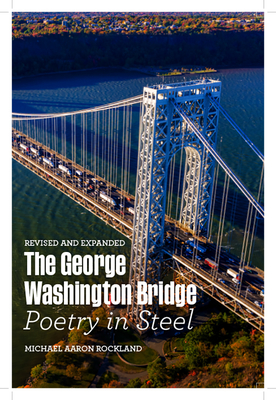 The George Washington Bridge: Poetry in Steel
Since opening in 1931, the George Washington Bridge, linking New York and New Jersey, has become the busiest bridge in the world, with 103 million vehicles crossing it in 2016. Many people also consider it the most beautiful bridge in the world, yet remarkably little has been written about this majestic structure.
Intimate and engaging, this revised and expanded edition of Michael Rockland's rich narrative presents perspectives on the GWB, as it is often called, that span history, architecture, engineering, transportation, design, the arts, politics, and even post-9/11 mentalities. This new edition brings new insight since its initial publication in 2008, including a new chapter on the infamous "Bridgegate" Chris Christie-era scandal of 2013, when members of the governor's administration shut down access to the bridge, causing a major traffic jam and scandal and subsequently helping undermine Christie's candidacy for the US presidency.
Stunning photos, from when the bridge was built in the late 1920s through the present, are a powerful complement to the bridge's history. Rockland covers the competition between the GWB and the Brooklyn Bridge that parallels the rivalry between New Jersey and New York City. Readers will learn about the Swiss immigrant Othmar Ammann, an unsung hero who designed and built the GWB, and how a lack of funding during the Depression dictated the iconic, uncovered steel beams of its towers, which we admire today. There are chapters discussing accidents on the bridge, such as an airplane crash landing in the westbound lanes and the sad story of suicides off its span; the appearance of the bridge in media and the arts; and Rockland's personal adventures on the bridge, including scaling its massive towers on a cable.
Movies, television shows, songs, novels, countless images, and even PlayStation 2 games have aided the GWB in becoming a part of the global popular culture. This tribute will captivate residents living in the shadow of the GWB, the millions who walk, jog, bike, skate, or drive across it, as well as tourists and those who will visit it someday.
.
Michael Aaron Rockland is a professor of American studies at Rutgers, New Brunswick. He is the author or coauthor of many books, including Looking for America on the New Jersey Turnpike (Rutgers University Press), listed by the State Library as one of the ten best books ever written about New Jersey, and the novel A Bliss Case, a New York Times Notable Book of the Year. Rockland is also a regular contributor to New Jersey Monthly magazine.