Consultative Selling: The Hanan Formula for High-Margin Sales at High Levels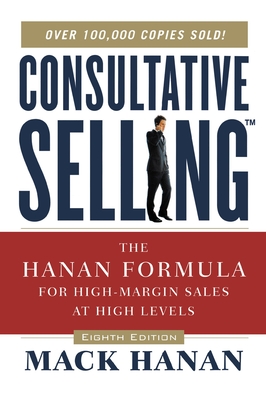 Consultative Selling: The Hanan Formula for High-Margin Sales at High Levels
Out of Stock In Store
When you help your customers and clients make profitable business decisions, the result is a win-win solution that can lead to a mutually beneficial long-term business relationship.
In Consultative Selling, sales consultant Mack Hanan helps you achieve just that by introducing a formula that will take your sales to the next level--one that involves you exchanging your salesperson hat for that of a trusted consultant. You'll learn how to:
create a two-tiered sales model to separate consultative sales from commodity sales;
build and use consultative databases for value propositions and proof of performance;
study your customers' cash flows to win proposals;
use consultative selling strategies on the web;
and cope with--and reverse--the inevitable "no."
For over four decades, Consultative Selling has empowered countless sales professionals to reap maximum success.
Now, packed with new partnering strategies, cost/benefit analysis templates, detailed monetized value proposition models, outcome-based branding approaches, and powerful consulting tactics, the eighth edition of this invaluable resource will bring you wide-ranging success--making the competition irrelevant.
MACK HANAN is an international consultant, trainer, and lecturer on accelerated business growth.
ISBN: 9780814437506
ISBN-10: 9780814437506
Publisher: Amacom
Publication Date: 03/15/2011 - 12:00am
On Sale: 03/15/2011 - 12:00am
Pages: 258
Language: English
Categories