Designing Dynamic Organizations: A Hands-On Guide for Leaders at All Levels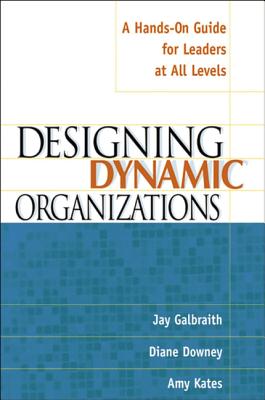 Designing Dynamic Organizations: A Hands-On Guide for Leaders at All Levels
Out of Stock In Store
Which business structures are best suited to the unpredictable 21st century? How can a business reconfigure itself with minimum disruption and maximum impact?
Every executive grapples with problems of restructuring--and most need hands-on guidance to solve them. Based on Jay Galbraith's world-renowned approach to organization design and featuring a broad selection of practical tips and tools developed by Diane Downey and Amy Kates, Designing Dynamic Organizations gives business leaders at all levels everything they need to implement positive, progressive change.
In this book, business executives will learn how to examine their choices by leading them systematically through these fundamental questions:
Should we restructure to meet our strategic goals?
What are the best structural options to achieve our success?
What lateral processes are necessary to support the new structure?
How do we staff the restructured organization to optimize results?
Designing Dynamic Organizations includes examples and worksheets that pilot you through the essential steps of organizational design.
Jay Galbraith (Breckenridge, Co) is a professor at the University of Southern California and the International Institute for Management Development in Lausanne. His previous books, including Organizing for the Future and Designing Organizations, are classics in their field. Diane Downey (New York, NY) is president of Downey Associates International (DAI), a management consulting firm, and author of Assimilating New Leaders. Amy Kates (New York, NY) is a senior consultant at DAI.
ISBN: 9780814471197
ISBN-10: 9780814471197
Publisher: Amacom
Publication Date: 12/17/2001 - 12:00am
On Sale: 12/17/2001 - 12:00am
Pages: 272
Language: English
Categories