Diary of a Lonely Girl, or the Battle Against Free Love (Judaic Traditions in Literature)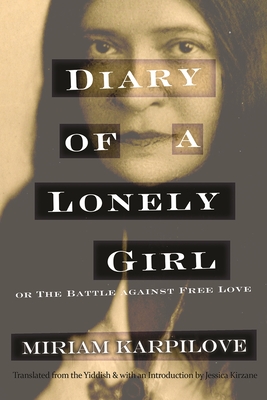 Diary of a Lonely Girl, or the Battle Against Free Love (Judaic Traditions in Literature)
Out of Stock In Store
First published serially in the Yiddish daily newspaper di Varhayt in 1916-18, Diary of a Lonely Girl, or The Battle against Free Love is a novel of intimate feelings and scandalous behaviors, shot through with a dark humor. From the perch of a diarist writing in first person about her own love life, Miriam Karpilove's novel offers a snarky, melodramatic criticism of radical leftist immigrant youth culture in early twentieth-century New York City. Squeezed between men who use their freethinking ideals to pressure her to be sexually available and nosy landladies who require her to maintain her respectability, the narrator expresses frustration at her vulnerable circumstances with wry irreverence. The novel boldly explores issues of consent, body autonomy, women's empowerment and disempowerment around sexuality, courtship, and politics.
Karpilove immigrated to the United States from a small town near Minsk in 1905 and went on to become one of the most prolific and widely published women writers of prose in Yiddish. Kirzane's skillful translation gives English readers long-overdue access to Karpilove's original and provocative voice.
Miriam Karpilove (1888-1956) published dramas, criticism, sketches, short stories, and novellas in a variety of prominent Yiddish periodicals during her fifty-year career. She was a member of the Forverts staff, publishing seven novels and numerous works of short fiction in that paper between 1929 and 1937. Jessica Kirzane is a lecturer in Yiddish at the University of Chicago and the editor in chief of In Geveb: A Journal of Yiddish Studies. Kirzane was a 2017 Translation Fellow and a 2018 Pedagogy Fellow at the Yiddish Book Center.
ISBN: 9780815611165
ISBN-10: 9780815611165
Publisher: Syracuse University Press
Publication Date: 01/23/2020 - 12:00am
On Sale: 11/15/2019 - 12:00am
Pages: 344
Language: English
Categories