The History of the World in Comics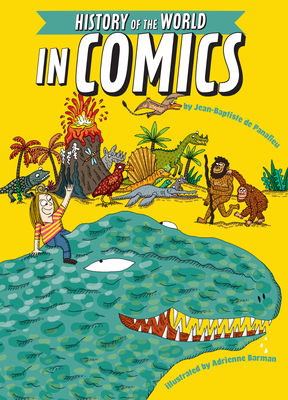 The History of the World in Comics
Out of Stock In Store (Available to Order)
Never has natural history been so fun! Scientific accuracy and humor combine to tell the entire history of Earth in a comic book format.

A paleontologist and a storyteller take two children through the birth of our planet, the beginning of microbes, and through the heydays of protozoans, dinosaurs, and early mammals with unfailing enthusiasm.

The art accurately portrays animal species and prehistoric landscapes, includes maps and infographics, but also adds humorous touches: a google-eyed prehistoric fish looking startled to be walking on land and the children popping out of a tree top to surprise a Brachiosaurus.

The combined expertise of author Jean-Baptiste de Panafieu, a science writer and biologist, and illustrator Adriene Barman, the creator behind Creaturepedia and Plantopedia, makes for a science read you can trust.

Fans of Maris Wicks's Human Body Theater and Nathan Hale will be pleased.
Jean-Baptiste de Panafieu is a science writer and biologist with advanced degrees in genetics, oceanography, and cinematography. He is well-known in France for his television documentaries and books on science for both children and general audiences. He has won the Prix La Science se Livre and the Prix du Livre Scientifique in France. His Evolution created with the Museum of Natural History in Paris was published in the U.S. by Seven Stories Press. He lives in Paris, France.

Adriene Barman is a Swiss graphic novelist, designer, and illustrator. She specializes in inventive books on animals for children. Her popular Creaturpedia and its companion Plantopedia have been published throughout the world, and by Wide Eyed Editions in the U.S. She lives in Geneva, Switzerland.