2 Weeks to Feeling Great: Because, seriously, who has the time?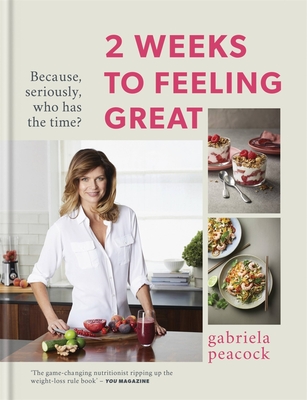 2 Weeks to Feeling Great: Because, seriously, who has the time?
Out of Stock In Store (Available to Order)
An accessible guide to health and nutrition to encourage shifts in diet and lifestyle to a healthier, happier you
2 Weeks to Feeling Great is nutritionist Gabriela Peacock's comprehensive guide to health and wellbeing aimed at busy people who may not have the time - or inclination - to commit to strict rules that are not compatible with real life and focuses on what is achievable. It includes two detailed 14-day programs on intermittent fasting, scientifically proven to be the most effective method of safely reaching a healthy weight. The book focuses on the 4:3 and 16:8 two-week plans - the two most effective and clinically researched weight-loss methods. It also includes quick and easy recipes to support the weight-loss plans.
Covering everything from improving sleep to rebalancing hormones and increasing energy, the easy-to-remember tips and recommendations require minimal effort but deliver significant results. Gabriela also looks at other lifestyle factors, in addition to diet, that affect health - from household and beauty products to reducing the use of plastics. The bottom line is, you don't have to be perfect in order to feel and look better.
Gabriela Peacock, who was born in the Czech Republic, has built her practice as a nutritionist around a realistic approach to the demands of modern life. Having worked as a model, she then spent nine years studying two degrees, the first in Naturopathic Nutrition, before going on to graduate from the University of Westminster with BSc (Hons) in Health Science - Nutritional Therapy. Gabriela specialises in intermittent fasting weight management plans and in 2016, launched her range of supplement programs, based on her extensive experience in the role supplements play in supporting restful sleep, increased energy, healthy immune function, weight loss and general physical, as well as mental, wellbeing.