Root Cellaring: Natural Cold Storage of Fruits & Vegetables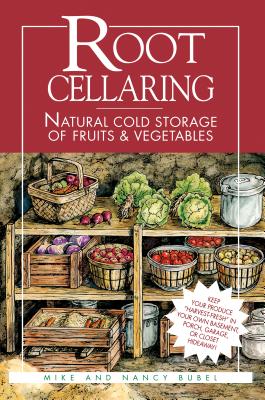 Root Cellaring: Natural Cold Storage of Fruits & Vegetables
Out of Stock In Store (Available to Order)
Stretch the resources of your small backyard garden further than ever before, without devoting hundreds of hours to canning! This informative and inspiring guide shows you not only how to construct your own root cellar, but how to best use the earth's naturally cool, stable temperature as an energy-saving way to store nearly 100 varieties of perishable fruits and vegetables.
Mike Bubel co-authored the classic best-selling guide Root Cellaring with his wife, Nancy. They were avid gardeners for many years in Philadelphia and then on their farm in Wellsville, Pennsylvania. 


Nancy Bubel, co-author of the classic best-selling guide, Root Cellaring, was a gardening columnist for Country Journal magazine and wrote for Mother Earth News, Organic Gardening, Horticulture, Family Circle, Woman's Day and New Shelter magazines. She was a member of the Pennsylvania Horticultural Society and the Society for Economic Botany, and a life member of both the Seed Savers Exchange and the Friends of the Trees Society.