Embody: Learning to Love Your Unique Body (and Quiet That Critical Voice!)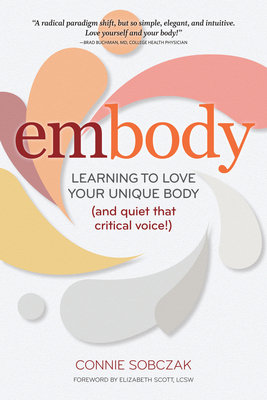 Embody: Learning to Love Your Unique Body (and Quiet That Critical Voice!)
Out of Stock In Store
This book's message is rooted in the belief that people inherently possess the wisdom necessary to make healthy choices and live in balance. It emphasizes that self-love, acceptance of genetic diversity in body size, celebration of the unique beauty of every individual, and intuitive self-care are fundamental to achieving good physical and emotional health.
Embody
guides readers step by step through five core competencies:
- Reclaim Health
- Practice Intuitive Self-Care
- Cultivate Self-Love
- Declare Your Own Authentic Beauty
- Build Community Anyone can practice these fundamental skills on a daily basis to honor their innate wisdom and take good care of their whole selves, and research indicates that this work significantly improves people's ability to regulate eating, decreases depression and anxiety, and increases self-esteem. Rather than receiving a prescriptive set of rules to follow, readers are guided through patient, mindful inquiry to find what works uniquely in their own lives to bring about -- and sustain -- positive self-care changes and a peaceful relationship with their bodies.
Connie Sobczak is a mentor, writer, and award-winning video producer. Her experience with an eating disorder in her teen years and the death of her sister Stephanie inspired her life's work to create a world where all people are free to love their bodies. In 1996, she and Elizabeth Scott, LCSW, co-founded The Body Positive, a nonprofit organization that teaches people to experience radical self-love, inhabit their unique beauty, and reconnect to the voice of wisdom within that offers freedom to live with purpose and passion. Connie is a leader of the movement to prevent eating problems and improve the self-image of youth and adults through her videos, writing, workshops, and peer-led programs for students in middle school through college. Her video Discover Your Healthy Weight was a grand festival award winner in the 2009 Berkeley Video & Film Festival. She was a 2008 semi-finalist for a Volvo for Life award honoring "real-life heroes." A California native, Connie currently resides in the San Francisco Bay Area with her partner, Jim. Their daughter, Carmen, is her inspiration and her joy.
ISBN: 9780936077802
ISBN-10: 9780936077802
Publisher: Gurze Books
Publication Date: 06/10/2014 - 12:00am
On Sale: 06/10/2014 - 12:00am
Pages: 288
Language: English
Categories