Mrs. Ike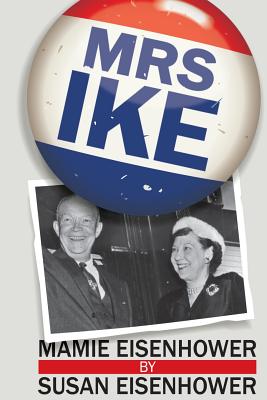 Mrs. Ike
Out of Stock In Store (Click to Order)
This item may not be available to order. Please call 617-566-6660 for more information.
In an era where Americans are desperately seeking heroes and mentors, here is the story of how a saucy young lady from Denver, Mamie Doud Eisenhower, meets her match in handsome Ike Eisenhower, a farm boy fresh out of West Point, and becomes the Army wife par excellence. They were two very passionate and private people whose 53-year marriage, much of it lived in the public eye, survived great tragedies, misunderstandings, and adventures - and led to glowing triumphs in World War II and the White House. Mrs. Ike is not only a biography of a beloved American but a superb account of a complex marriage. Susan Eisenhower helps readers see her grandmother as her husband did - a heroic and irresistible figure in her own right.
Susan Eisenhower serves as President of the Eisenhower Group, Inc. which provides strategic counsel on political and business projects. Eisenhower was a founding director and the first president of the Eisenhower Institute where she became known for her work in the former Soviet Union and in the energy field. She is currently the Eisenhower Institute's Chairman of Leadership and Public Policy Programs. Eisenhower has consulted for Fortune 100 and Fortune 500 companies and served on many government task forces. In January 2010, Secretary of Energy Steven Chu appointed Eisenhower to serve on the Blue Ribbon Commission on America's Nuclear Future, which has been tasked with developing a long-term solution for safely managing the back end of the nuclear fuel cycle. Eisenhower has authored three books, two of which, "Breaking Free" and "Mrs. Ike," appeared on regional best seller lists. She has also edited four collected volumes on regional security issues, most recently "Partners in Space," and penned hundreds of op-eds and articles on foreign policy for publications such as The Washington Post, The Los Angeles Times, USA Today, the Naval Institute's Proceedings, The London Spectator, and Gannett Newspapers. She has provided analysis for CNN International, MSNBC, Nightline, World News Tonight with Peter Jennings, This Week with David Brinkley, CBS Sunday Morning, Good Morning America, The News Hour with Jim Lehrer, Fox News and Hardball, as well as NPR and other nation-wide television and radio programs.
ISBN: 9780984684205
ISBN-10: 9780984684205
Publisher: Ferrous Books
Publication Date: 11/18/2011 - 12:00am
On Sale: 11/18/2011 - 12:00am
Pages: 472
Language: English
Categories