Curious About Cannabis (2nd Edition): A Scientific Introduction to a Controversial Plant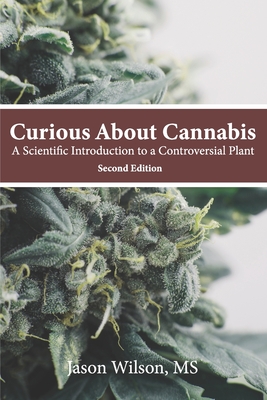 Curious About Cannabis (2nd Edition): A Scientific Introduction to a Controversial Plant
Out of Stock In Store (Click to Order)
This item may not be available to order. Please call 617-566-6660 for more information.
"Hemp. Marijuana. You can call it what you will - it's Cannabis, and it's got a lot of people curious."Revised and expanded for a second edition, Curious About Cannabis cuts through the hear-say and explores scientific answers to essential questions about "marijuana" like: - What chemicals are in Cannabis?- How does Cannabis interact with the human body?- How is Cannabis used as a medicine?- What health risks are associated with using Cannabis?- What is CBD?- How does CBD interact with other drugs?- Will I fail a drug test if I use CBD?- How does Cannabis use affect driving ability?- What is the endocannabinoid system?- And much more With over 400 pages of information, hundreds of references to Cannabis and cannabinoid research articles, hands-on learning activities, quizzes, and tons of additional recommended resources, Curious About Cannabis will become an essential text for educators, researchers, consumers, and enthusiasts alike Words of Praise for Curious About Cannabis: "Jason Wilson has done it He has demystified cannabinoid science for an easy and accurate read and provides valuable and practical tips due to many ears of hands on work in the Cannabis industry. I highly recommend this book for consumers, budtenders, laboratory/production personnel, executives in the industry, and scientists wanting evidence-based information in the field of phytocannabinoids." - Kevin Spelman, PhDAbout The Author: Jason Wilson is a science educator and natural products researcher living in Oregon, USA. Over the past decade he has worked in analytical laboratories specializing in Cannabis and cannabinoid product testing. During this time he has also helped laboratories implement robust quality management systems and actively assists Cannabis and hemp companies with process control, quality management, analytical testing, and research design. He hosts the popular Curious About Cannabis Podcast (www.CACPodcast.com) where he explores critical questions and topics about Cannabis and cannabinoids with researchers, doctors, nurses, chemists, cultivators, patients and more in an effort uncover enduring understandings about the world's most controversial plant. Jason contributes time to assist a variety of non-profit science education groups including the Health Research Institute, The Oregon Cannabis Education and Resource Center, and The International Institute for Cannabinoids. He is also the author of other nonfiction and fiction science and philosophy focused books, including the educational children's book, "A Toadstool's Treasures: Discovering the Fun and Fascinating World of Fungi". About the Publisher: Natural Learning Enterprises is a mission driven company focused on improving public scientific literacy about the natural world. With an emphasis on both science and philosophy, Natural Learning Enterprises connects curious audiences with thought-provoking and educational print and digital content including books, videos, podcasts, and more. To learn more about Natural Learning Enterprises, visit http: //www.NaturalEdu.com.
ISBN: 9780998572857
ISBN-10: 9780998572857
Publisher: Natural Learning Enterprises, LLC
Publication Date: 07/28/2020 - 12:00am
On Sale: 07/28/2020 - 12:00am
Pages: 458
Language: English
Categories