Positive Mindset Journal For Teachers: Year of Happy Thoughts, Inspirational Quotes, and Reflections for a Positive Teaching Experience (Academic Edit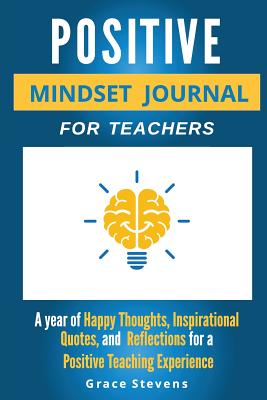 Positive Mindset Journal For Teachers: Year of Happy Thoughts, Inspirational Quotes, and Reflections for a Positive Teaching Experience (Academic Edit
Out of Stock In Store (Available to Order)
If you are a teacher or know a great one - this is the perfect teacher gift
Can the simple act of journaling take your day from Crappy to Happy? Harvard Research says, "Yes " And it takes less than 10 minutes a day
Did you know that your ability to notice the "good stuff" and experience joy is actually like a muscle, that can be flexed and improved? Practicing simple "happy habits" can seriously ramp up the quality of your day and your life. And if you spend any time teaching, this journal is an easy way to help you.
This journal is the perfect place to practice your classroom"happy habits". Containing reflection pages for one academic year this journal includes:
inspirational quotes
places to journal your happy thoughts, intentions, and reflections
fun activities such as"the quote of the week" and random doodle boxes
prompts to help you focus on mindfulness and gratitude
an easy way to "snapshot" the best of your year
This little gem of a book can help keep you on track with your "happy habits" and serves as a great keepsake of the favorite parts of your teaching year.
So come on, practice flexing your happy muscle
***This edition of the journal has gender-neutral graphics - perfect for gifting to your entire staff. If you are buying this as a gift for a female teacher, you may consider the gift version with the lilac cover and hearts and floral graphics ****
ISBN: 9780998701936
ISBN-10: 9780998701936
Publisher: Red Lotus Books
Publication Date: 04/09/2017 - 12:00am
On Sale: 04/09/2017 - 12:00am
Pages: 178
Language: English
Categories