A Season for Sales: Your Guide to Ag Sales Success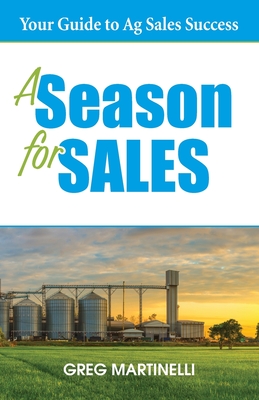 A Season for Sales: Your Guide to Ag Sales Success
Out of Stock In Store
There's no other book like this one: a front-line view of selling to farmers, livestock producers and agribusiness buyers in the industry. Do you sell to grain farmers, dairy producers, feed store owners, Ag retail managers or coops? There are thousands of books on selling, but this is the only one that gives you the unique perspective from nearly 30 years of experiences from an Ag Sales Professional.
Do you sell B2B (business to business) or B2C (business to consumer)? Are you a road warrior with a multi-state territory or an inside salesperson who sells over the phone or in-store? Are you in sales, marketing, production, trucking, accounting, engineering or customer service? Then this book is for you because everyone of us is selling something. Whether you directly interact with the customer as a salesperson or indirectly in the support you provide, this book gives you a unique perspective on how you can help your company grow.
Farmers and producers go through boom and bust times. Selling to them and the businesses that serve them is no easy task. It's an old business which typically has a lot of competition. By nature, buyers attempt to turn our products and services into a commodity.
They are trying to compare apples to apples. In this book, Greg shows you how to stand out from the army of sales people driving up and down the farmer's driveway. Learn how to sell oranges in an apples to apples world.
With real stories from nearly three decades as an Ag sales professional, Greg deals with the most common struggles you will face in your selling career.
Not being salesy..... "I'm not a high-pressure type salesperson"
Getting past price resistance.... "I can get it cheaper from your competitor."
Handling the barrage of complaints that can overwhelm a salesperson.... "My delivery didn't show up... your feed killed my horse... I can't pay you right now..."
How to organize your territory for maximum productivity.... "Time is my biggest limiter to growing my sales."
Deciding where to spend your time and resources.... "Should I turn left or right out of my driveway?"
Special sections bring you:
7 Farmers you will meet in your territory.... Learn to recognize the most common types of customers you will run into on sales calls....the cob roller...the info junky...
6 strategies for taming your fears.... We all have them. They creep in and out of our mind with the ability to kill our confidence and sales productivity. Learn to recognize and move through them to the other side of fear.
7 Challenging customer types... see how many you have already met in your territory. the high maintenance...the "I'm a big account" producer....the emotionally distant buyer.
This is your guide to selling oranges in a world that is obsessed with comparing apples to apples. Don't wait another day to start building your brand no matter what stage of your selling career you are in. ​​​​​​​
ISBN: 9780999593202
ISBN-10: 9780999593202
Publisher: AG Sales Professionals
Publication Date: 01/22/2020 - 12:00am
On Sale: 01/22/2020 - 12:00am
Pages: 200
Language: English
Categories