Making Dollar Make $ense: Business Ownership at any Age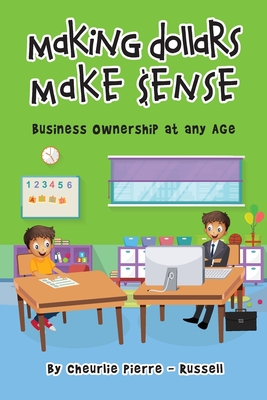 Making Dollar Make $ense: Business Ownership at any Age
Out of Stock In Store
Give your children a gift that will last for a lifetime by teaching them time-tested financial skills with this ultimate guide to financial success Are you ready to take your kids to the next level by completely overhauling their mindset and relationship with money? If yes then keep reading...Money is a touchy subject to approach with kids. It's right up there with "The Talk". Do you want to broach the topic of teaching your kids financial independence and how to handle money properly at a young age without making your child resent you? Do you want to get your kids to shift their mindset from getting from you to earning for themselves?If you answered yes to any of the questions above, then you need to get this guide for your little ones.In this guide, Cheurlie Pierre-Russell shows you how to catch them young by clearly outlining field-tested financial advice that instills a healthy relationship with money and works, regardless of age, location and race without making them feel like they're missing out. Making Dollars Make $ense: Business Ownership at any Age will help you instill powerful virtues in your kids and teach them lessons that will help them in their life's journey. Here's a snippet of what your kids are going to discover in this guide: -The awesome power of delayed gratification-Handling financial agreements with other people-How to brainstorm a small business idea-Basic financial terms that will help you talk to your kids about money-Step-by-step instructions on learning how to start a small business reselling items at a profit-How to turn an innate talent into an income stream-...and tons more Highly profound and full of practical advice, Making Dollars Make $ense: Business Ownership at any Age is a guide that will help your kids hit the ground running in the race of life by teaching them the very fundamental skills needed to not only survive but to excel, flourish and thrive in a world that's harsh, unforgiving and dismissive of the weak. Ready to take your kids to the next level?
Scroll up and click the "add to cart" button to buy now
Cheurlie Pierre-Russell was born and raised in sunny Miami, Florida. She graduated from Georgia State University with a Bachelor in Arts degree in Sociology. She has also obtained her Master in Science degree in Psychology from Walden University. After serving in the United States Navy for several years, she decided her passion was working with children and helping them grow by writing fiction and non-fiction books for children covering a wide range of subjects from education to dealing with emotions. A strong model for women and children, Cheurlie firmly believes that children are the future and by instilling positive values in them, we can make the world a better place.
ISBN: 9781087807683
ISBN-10: 9781087807683
Publisher: J3russell, LLC.
Publication Date: 10/25/2019 - 12:00am
On Sale: 10/25/2019 - 12:00am
Pages: 38
Language: English
Categories