The Media of Photography (Journal of Aesthetics and Art Criticism)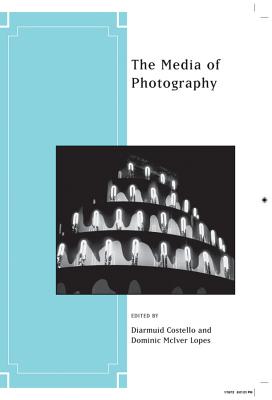 The Media of Photography (Journal of Aesthetics and Art Criticism)
Two events in particular occasion this volume on the philosophy of photography: the blurring of boundaries that many took to demarcate photographic technology and practices from other representational and artistic technologies and the invention of digital photography. The purpose of this volume is not to revive older questions by asking what, if anything, still distinguishes photography in the light of these developments, but to consider sundry questions about the materials and tools--or media--of photography from a variety of perspectives.
critically examines classic and influential arguments in philosophy of photography
addresses recent trends in photographic art, such as conceptualism and appropriation
highlights philosophically neglected elements of photographic art, such as performativity and self-portraiture
reexamines the role of photographic media in photographic art practices
offers new perspectives of the impact of digital technologies on photography
explores the relationship between photographic art and photography in other arts (comics and music) and in science
brings a range of philosophical methodologies and traditions into dialogue
incorporates extended discussions of the work of important photographers and artists who use photography (e.g. Friedlander, Gursky, Lawlor)
illustrates philosophical points with reproductions, many of them not widely known
closely connects philosophical theory to the details of photographic practice
offers original and novel theories of the aesthetic, artistic, and epistemic values of photographs
Diarmuid Costello is Associate Professor of Philosophy at the University of Warwick, Chair of the British Society of Aesthetics and Co-Director of the AHRC 'Aesthetics after Photography' research project. He has co-edited two other collections on photography: Photography after Conceptual Art for Art History (November 2009) and Agency and Automatism for Critical Inquiry (Summer 2012). His articles have appeared in the Journal of Aesthetics and Art Criticism, the British Journal of Aesthetics, Critical Inquiry and Rivista di Estetica. He is working on two longer projects: On Photography and Art after Aesthetics? Dominic McIver Lopes is Distinguished University Scholar and Professor of Philosophy at the University of British Columbia. He is the author of Understanding Pictures (1996), Sight and Sensibility: Evaluating Pictures (2005), and A Philosophy of Computer Art (2009) in addition to papers on such topics as depiction, the ontology of art, theories of art and aesthetic value. He is now revising a manuscript of book entitled Beyond Art while writing another book on four artistic uses of photographic media.
ISBN: 9781118269015
ISBN-10: 9781118269015
Publisher: Wiley-Blackwell
Publication Date: 03/07/2012 - 12:00am
On Sale: 03/07/2012 - 12:00am
Pages: 300
Language: English
Categories