A Companion to the Achaemenid Persian Empire (Blackwell Companions to the Ancient World)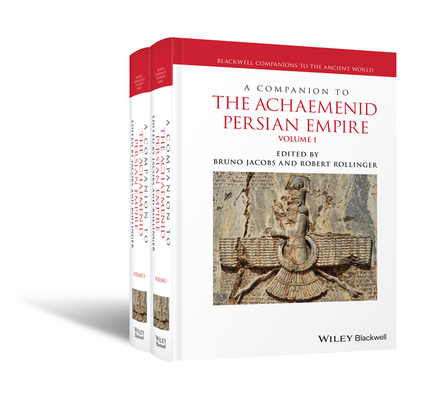 A Companion to the Achaemenid Persian Empire (Blackwell Companions to the Ancient World)
Das Ach menidenreich wird h ufig als das erste Weltreich bezeichnet. Die Urspr 1/4nge liegen allerdings vielmehr in den Traditionen des Nahen Ostens, von denen einige erst k 1/4rzlich intensiv neu bewertet wurden. Dieses Fachbuch n hert sich dem Fachgebiet in einzigartiger und innovativer Weise und besch ftigt sich mit den Vorl ufern, aus denen das Arch menidenreich seine Struktur, Ideologie, Selbstdarstellung ableitete. Dabei werden Schriftst 1/4cke und arch ologische Quellen ausgewertet. Betrachtet werden das Erbe des Gro Ÿreichs, die zeitgen ssische, sp tere und sogar heutige Wahrnehmung.
A Companion to the Achaemenid Persian Empire ber 1/4cksichtigt's mtliche historische Quellen, auch arch ologische Funde. Das Arch menidenreich wird vorrangig aus dem Blickwinkel seiner verschiedenen Zentren beleuchtet, wobei den vernachl ssigten stlichen Gebieten ebenso viel Aufmerksamkeit geschenkt wird wie den westlichen Teilen des Reiches, die h ufiger Gegenstand der Forschung sind. Dabei wird nicht nur die politische Geschichte ber 1/4cksichtigt. Die soziale, wirtschaftliche und religi se Geschichte, Institutionen, Kunst und Wissenschaften werden ebenfalls untersucht mit dem Ziel, ein vollst ndiges Bild des persischen Reiches zu zeichnen und seine nachhaltige Bedeutung st rker in den Vordergrund zu r 1/4cken.
Bruno Jacobs is Professor of Ancient Near Eastern Studies at the University of Basel. Robert Rollinger is Professor of Ancient History and Ancient Near Eastern Studies at the University of Innsbruck.
ISBN: 9781119174288
ISBN-10: 9781119174288
Publisher: Wiley-Blackwell
Publication Date: 08/31/2021 - 12:00am
On Sale: 06/03/2020 - 12:00am
Pages: 1744
Language: English
Categories