Political Science for Dummies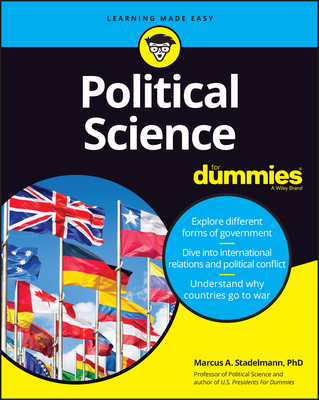 Political Science for Dummies
Out of Stock In Store (Click to Order)
Expand your political science knowledge with a book that explains concepts in a way anyone can understand
The global political climate is dynamic, at times even volatile. To understand this evolving landscape, it's important to learn more about how countries are governed. Political Science For Dummies explores the questions that political scientists examine, such as how our leaders make decisions, who shapes political policy, and why countries go to war. The book is the perfect course supplement for students taking college-level, introductory political science courses. Political Science For Dummies is a guide that makes political science concepts easier to grasp.
Get a better understanding of political ideologies, institutions, policies, processes, and behavior
Explore topics such as class, government, diplomacy, law, strategy, and war
Learn the specialized vocabulary within the field of political science
Help prepare for a range of careers, from policy analyst to legislative assistant
Political science crosses into many other areas of study, such as sociology, economics, history, anthropology, international relations, law, statistics, and public policy. Those who want to understand the implications of changing political economies or how governing bodies work can look to Political Science For Dummies. It's the book thatcuts through the jargon as it focuses on issues that interest readers.
Marcus A. Stadelmann, PhD, is a professor of political science and chair of the Department of Political Science and History at the University of Texas at Tyler. Along with teaching at universities in California, Utah, and Texas, Dr. Stadelmann has published and given presentations in the fields of American politics and international relations.
ISBN: 9781119674849
ISBN-10: 9781119674849
Publisher: For Dummies
Publication Date: 08/18/2020 - 12:00am
On Sale: 08/04/2020 - 12:00am
Pages: 336
Language: English
Categories