Diversity and Inclusion Matters: Tactics and Tools to Inspire Equity and Game-Changing Performance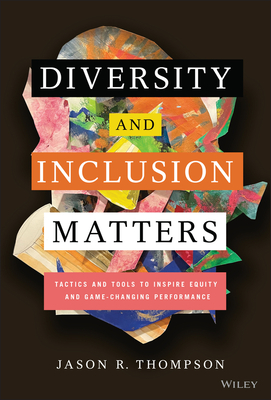 Diversity and Inclusion Matters: Tactics and Tools to Inspire Equity and Game-Changing Performance
Pre-Order (Not Yet Published)
Expert guidance and step-by-step instruction for building a successful diversity, equity, and inclusion initiative from scratch
In Diversity and Inclusion Matters: Tactics and Tools to Inspire Equity and Game-Changing Performance, award-winning diversity, equity, and inclusion (DE&I) expert Jason R. Thompson delivers a practical and engaging handbook for implementing a DE&I program in your organization. The CAPE technique, developed by the author, gives you a clear blueprint and the tools you'll need to make your diversity program a success.
In this book, you'll learn how to achieve early and significant wins to create the necessary and long term organizational change needed for successful DE&I programs. Find out what data you need to collect, how to analyze it, and choose the right goals for your organization. In addition, the CAPE technique will show your progress and ROI.
You will learn to:
Manage and lead a diversity council and implement diversity initiatives in the correct order
Get early buy-in and long-term commitment from a Chief Executive Officer by knowing what to ask for and when
Set appropriate and realistic expectations for a DE&I program with the executive leadership team
Perfect for diversity and inclusion professionals, human resources leaders, founders, business owners, and executives, Diversity and Inclusion Matters will also earn a place in the libraries of students of human resources, leadership, management, and finance.
Jason R. Thompson is a professor at Western Governors University and has experience in developing or leading diversity programs in higher education, sports, health care and tech. There are few other professionals who can say they have started successful DEI programs in three distinct industries. His work in DEI has been recognized nationally and internationally. Jason's work was Awarded the number 1 rated initiative of the 13th Annual International Innovation in Diversity Award by the Profiles in Diversity Journal in 2016, the 2015 Diversity Champion Award from the Colorado Chapter of the Society for Human Resource Management (COSHRM) and he was twice named a Diversity Leader by Profiles in Diversity Journal. Jason has been quoted in The New York Times, The Washington Post, The Guardian, USAToday, FOX News, and CNN.
ISBN: 9781119799535
ISBN-10: 9781119799535
Publisher: Wiley
Publication Date: 12/14/2021 - 12:00am
On Sale: 05/04/2021 - 12:00am
Pages: 240
Language: English
Categories