Project Management for Dummies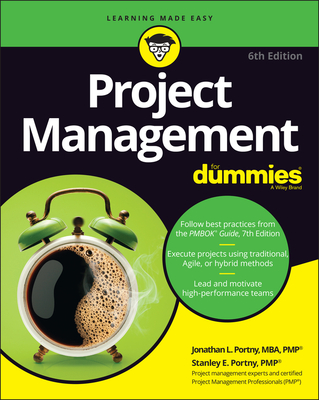 Project Management for Dummies
Out of Stock In Store (Available to Order)
Improve your project management skills and accomplish more in no time at all
In these days when projects seem to be bigger and more challenging than ever before, you need to make sure tasks stay on track, meet the budget, and keep everyone in the loop. Enter Project Management For Dummies. This friendly guide starts with the basics of project management and walks you through the different aspects of leading a project to a successful finish. After you've navigated your way through a couple of projects, you'll have the confidence to tackle even bigger (and more important) projects
In addition to explaining how to manage projects in a remote work environment, the book offers advice on identifying the right delivery approach, using social media in project management, and deploying agile project management. You'll also discover:
What's new in project management tools and platforms so you can choose the best application for your team
How to perfect your project management business document with an emphasis on strategy and business knowledge
Details on the shift from process-based approaches to more holistic, principle-based strategies focused on project outcomes
Examples of how to turn the strategies into smooth-flowing processes
Best practices and suggestions for dealing with difficult or unexpected situations
If you're planning to enroll in a project management course or take the Project Management Professionals Certification exam, Project Management For Dummies is the go-to resource to help you prepare. And if you simply want to improve your outcomes, this handy reference will have you and your team completing project goals like ninjas
Jonathan L. Portny, MBA, PMP(R), has more than 15 years of experience in the field of project management and is a certified Project Management Professional. His father, Stanley E. Portny, PMP(R), was an internationally recognized expert in project management and the author of all previous editions of Project Management for Dummies.
ISBN: 9781119869818
ISBN-10: 9781119869818
Publisher: For Dummies
Publication Date: 04/19/2022 - 12:00am
On Sale: 04/19/2022 - 12:00am
Pages: 480
Language: English
Categories