The Police Manager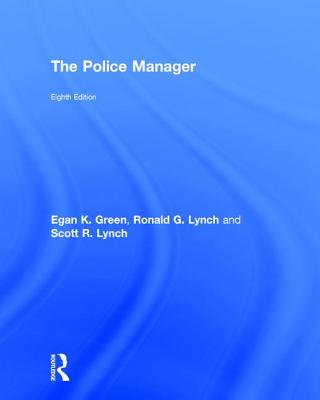 The Police Manager
Unavailable
This item may not be available to order. Please call 617-566-6660 for more information.
The Police Manager, 8th Edition, is a major update, with a completely fresh chapter on school resource officers, based on a new case study, and a new chapter on managing high-profile events. Every police agency today faces the possibility of controversy, and the need to train managers to deal appropriately with the media and the public continues to increase. Green, building on the foundation laid by Ronald Lynch in prior editions, gives practical, field-tested guidance to students and professionals who aspire to leadership roles in law enforcement, providing a comprehensive explanation of issues and challenges that they will face as police supervisors. The book is divided into four parts, covering historical and philosophical underpinnings, behavioral aspects of police management, functional aspects of police management, and major issues in modern police work.
This eighth edition is ideal for police management courses in U.S. undergraduate criminal justice programs, as well as for law enforcement practitioners preparing for promotional examinations. The text is also appropriate for broader criminal justice management courses.
Egan K. Green is a professor of criminal justice at Radford University in Virginia. He took over revision of The Police Manager in the seventh edition. His other research interests include rural crime, with a focus on wildlife crime and wildlife law enforcement; he also conducts research on illicit liquor manufacturing and distribution. Ronald G. Lynch, who died in 2013, was one of the pioneers in encouraging the modern breed of educated, self-directed police officers. His book has been a staple of classrooms and exam preparation materials for decades. Scott R. Lynch began his career in law enforcement in 1988 as a patrol deputy in the Orange County Sheriff's office. He rose steadily through the ranks and retired as their staff director. Currently he serves as director of security at Full Sail University in Orlando. He earned an M.S. in criminal justice from the University of Central Florida in 1991. His specializations include event security, private-sector liaison work, school safety, and critical incident management.
ISBN: 9781138203112
ISBN-10: 9781138203112
Publisher: Routledge
Publication Date: 10/12/2017 - 12:00am
On Sale: 09/29/2017 - 12:00am
Pages: 402
Language: English
Categories