Atlas of Islamic History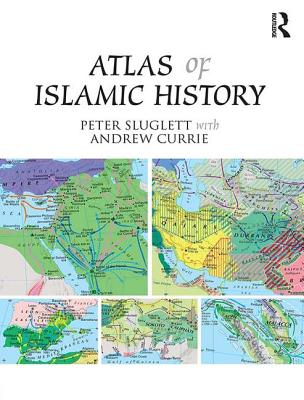 This Atlas provides the main outlines of Islamic history from the immediate pre-Islamic period until the end of 1920, that is, before most parts of the Muslim world became sovereign nation states.
Each map is accompanied by a text that contextualises, explains, and expands upon the map, and are fully cross-referenced. All of the maps are in full colour: 18 of them are double-page spreads, and 25 are single page layouts. This is an atlas of Islamic, not simply Arab or Middle Eastern history; hence it covers the entire Muslim world, including Spain, North, West and East Africa, the Indian sub-continent, Central Asia and South-East Asia. The maps are not static, in that they show transitions within the historical period to which they refer: for instance, the stages of the three contemporaneous Umayyad, Fatimid and 'Abbasid caliphates on Map 10, or the progress of the Mongol invasions and the formation of the various separate Mongol khanates between 1200 and 1300 on Map 21. Using the most up to date cartographic and innovative design techniques, the maps break new ground in illuminating the history of Islam.
Brought right up to date with the addition of a Postscript detailing The Islamic World since c.1900, a Chronology from 500 BCE to 2014, and additional endpaper maps illustrating The Spread of Islam through the Ages and The Islamic World in the 21st Century, the Atlas of Islamic History is an essential reference work and an invaluable textbook for undergraduates studying Islamic history, as well as those with an interest in Asian History, Middle East History and World History more broadly.
Peter Sluglett is Director of the Middle East Institute at the National University of Singapore. A historian of the Arab provinces of the Ottoman Empire in the late nineteenth and early twentieth centuries, and of the modern states of Iraq, Lebanon and Syria, he has taught Middle Eastern history at the University of Durham, England, and at the University of Utah, Salt Lake City. In 2012-13 he was President of the Middle East Studies Association of North America. Andrew Currie is director of his own independent cartographic consultancy, Creative Viewpoint. A geography graduate of the University of Edinburgh, with a distinction in cartography, he continued post-graduate studies and hands-on application in map-making sciences at the University of Glasgow in the 1960s. He has since worked on a wide range of cartographic productions with several leading publishers of maps and atlases in the U.K. and the Middle East. He considers the Atlas of Islamic History to be his most satisfying and most challenging cartographic design project, since it takes account of all four dimensions - including mapping change through time.
ISBN: 9781138821286
ISBN-10: 9781138821286
Publisher: Routledge
Publication Date: 02/06/2015 - 12:00am
On Sale: 02/06/2015 - 12:00am
Pages: 112
Language: English
Categories