The Owl Who Liked Sitting on Caesar: Living with a Tawny Owl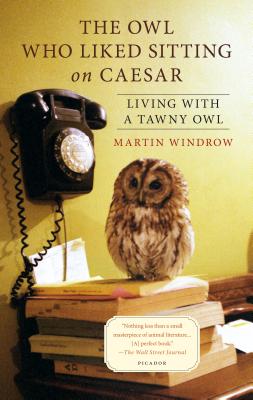 The Owl Who Liked Sitting on Caesar: Living with a Tawny Owl
Unavailable
The story of an odd couple-a British military historian and the Tawny Owl with whom he lived for fifteen years

Martin Windrow was a war historian with little experience with pets when he adopted an owl the size of a corncob. Adorable but with knife-sharp talons, Mumble became Windrow's closest, if at times unpredictable, companion, first in a South London flat and later in the more owl-friendly Sussex countryside. In The Owl Who Liked Sitting on Caesar, Windrow recalls with wry humor their finer moments as well as the reactions of incredulous neighbors, the awkwardness of buying Mumble unskinned rabbit at Harrods Food Hall, and the grievous sense of loss when Mumble nearly escapes.
As Windrow writes: "Mumble was so much a part of my life in those days that the oddity of our relationship seldom occurred to me, and I only thought about it when faced with other people's astonishment. When new acquaintances learned that they were talking to a book editor who shared a seventh-floor flat in a South London tower block with a Tawny Owl, some tended to edge away, rather thoughtfully . . . I tried to answer patiently, but I found it hard to come up with a short reply to the direct question 'Yes, but . . . why?'; my best answer was simply 'Why not?'"
Windrow offers a poignant and unforgettable reminiscence of his charmed years with his improbable pet, as well as an unexpected education in the paleontology, zoology, and sociology of owls.
Martin Windrow is an English military historian and a long-time commissioning and art editor for Osprey Publishing. He is the author of numerous books of military history, including The Last Valley, a distinguished history of the French defeat in Vietnam. He lives in the Sussex Downs country of southern England.