Six of Crows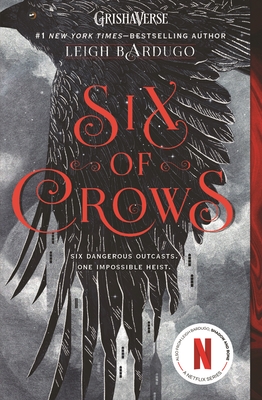 Six of Crows
Likely On Our Shelves
See the Grishaverse come to life on screen with Shadow and Bone, now a Netflix series.

Discover what comes next for heist trio Kaz, Inej, and Jesper - and the star-crossed Nina and Matthias - in the #1 New York Times bestseller Six of Crows, Book One of the Six of Crows Duology.

Ketterdam: a bustling hub of international trade where anything can be had for the right price—and no one knows that better than criminal prodigy Kaz Brekker. Kaz is offered a chance at a deadly heist that could make him rich beyond his wildest dreams. But he can't pull it off alone. . . .

A convict with a thirst for revenge.

A sharpshooter who can't walk away from a wager.

A runaway with a privileged past.

A spy known as the Wraith.

A Heartrender using her magic to survive the slums.

A thief with a gift for unlikely escapes.

Six dangerous outcasts. One impossible heist. Kaz's crew is the only thing that might stand between the world and destruction—if they don't kill each other first.

Six of Crows by Leigh Bardugo returns to the breathtaking world of the Grishaverse in this unforgettable tale about the opportunity—and the adventure—of a lifetime.

Read all the books in the Grishaverse!

The Shadow and Bone Trilogy
(previously published as The Grisha Trilogy)
Shadow and Bone
Siege and Storm
Ruin and Rising

The Six of Crows Duology
Six of Crows
Crooked Kingdom

The King of Scars Duology
King of Scars
Rule of Wolves

The Language of Thorns: Midnight Tales and Dangerous Magic
The Severed Moon: A Year-Long Journal of Magic
The Lives of Saints
Leigh Bardugo is a #1 New York Times bestselling author and the creator of the Grishaverse (now a Netflix series) which spans the Shadow and Bone trilogy, the Six of Crows duology, The Language of Thorns, and the King of Scars duology—with more to come. Her other works include Wonder Woman: Warbringer and Ninth House (Goodreads Choice Winner for Best Fantasy 2019). She lives in Los Angeles and is an Associate Fellow of Pauli Murray College at Yale University.
by Abby
Fri, 05/29/2020 - 1:29pm
Six teenagers, all outcasts and thieves with their own distinct voices, are pushed together to complete an impossible heist. They don't know each other, and they don't trust each other, but the stakes are too high and none of them can accomplish the task alone. Leigh Bardugo has written some of my favorite young adult novels of all time. She writes complicated characters and fast and intricate plots, and I usually can't put down one of her books once I've picked it up—even if it's a reread.
ISBN: 9781250076960
ISBN-10: 9781250076960
Publisher: Square Fish
Publication Date: 02/06/2018 - 12:00am
On Sale: 02/06/2018 - 12:00am
Pages: 496
Language: English
Categories