Broken (in the best possible way)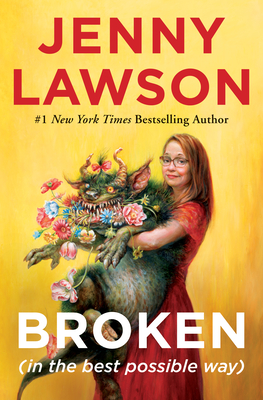 Broken (in the best possible way)
On Our Shelves Now
An Instant New York Times Bestseller

From the #1 New York Times bestselling author of Furiously Happy and Let's Pretend This Never Happened comes a deeply relatable book filled with humor and honesty about depression and anxiety.

As Jenny Lawson's hundreds of thousands of fans know, she suffers from depression. In Broken, Jenny brings readers along on her mental and physical health journey, offering heartbreaking and hilarious anecdotes along the way.

With people experiencing anxiety and depression now more than ever, Jenny humanizes what we all face in an all-too-real way, reassuring us that we're not alone and making us laugh while doing it. From the business ideas that she wants to pitch to Shark Tank to the reason why Jenny can never go back to the post office, Broken leaves nothing to the imagination in the most satisfying way. And of course, Jenny's long-suffering husband Victor—the Ricky to Jenny's Lucille Ball—is present throughout.

A treat for Jenny Lawson's already existing fans, and destined to convert new ones, Broken is a beacon of hope and a wellspring of laughter when we all need it most.

Includes Photographs and Illustrations
Jenny Lawson is an award-winning humorist known for her great candor in sharing her struggle with mental illness. She lives in Texas with her husband and daughter and was constantly "buying too many books" ("Not a real thing," she insists), so she decided to skip the middleman and just started her own bookshop, which also serves booze because books and booze are what magic is made of. She has previously written Let's Pretend This Never Happened and Furiously Happy, both of which were #1 New York Times bestsellers. She also wrote You Are Here, which inexplicably made it onto the New York Times bestseller list in spite of the fact that it was basically a very fun coloring book. She would like to be your friend unless you're a real asshole. And yes, she realizes that this whole paragraph is precisely the reason she shouldn't be allowed to write her own bio.
ISBN: 9781250077035
ISBN-10: 9781250077035
Publisher: Henry Holt and Co.
Publication Date: 04/06/2021 - 12:00am
On Sale: 04/06/2021 - 12:00am
Pages: 304
Language: English
Categories
Biography & Autobiography / Personal Memoirs