1666: Plague, War, and Hellfire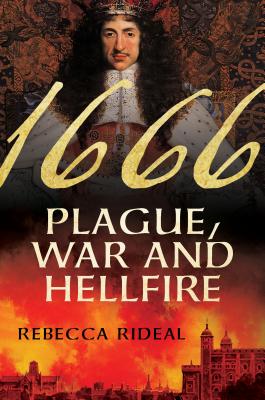 1666: Plague, War, and Hellfire
Unavailable
1666 was a watershed year for England. An outbreak of the Great Plague, the eruption of the second Dutch War, and the devastating Great Fire of London all struck the country in rapid succession and with devastating repercussions.

Shedding light on these dramatic events and their context, historian Rebecca Rideal reveals an unprecedented period of terror and triumph. Based in original archival research drawing on little-known sources, 1666 opens with the fiery destruction of London before taking readers on a thrilling journey through a crucial turning point in English history as seen through the eyes of an extraordinary cast of historical characters.

While the central events of this significant year were ones of devastation and defeat, 1666 also offers a glimpse of the incredible scientific and artistic progress being made at that time, from Isaac Newton's discovery of gravity to the establishment of The London Gazette. It was in this year that John Milton completed Paradise Lost, Frances Stewart posed for the iconic image of Britannia, and a young architect named Christopher Wren proposed a plan for a new London—a stone phoenix to rise from the charred ashes of the old city.

With flair and style, 1666 exposes readers to a city and a country on the cusp of modernity and a series of events that altered the course of history.
REBECCA RIDEAL is a writer and television producer who contributed to such documentaries as: Bloody Tales of the Tower, Adventurer's Guide to Britain, Jack the Ripper: Killer Revealed, Escape from a Nazi Death Camp, and the triple Emmy award winning series David Attenborough's First Life. She currently runs the online magazineThe History Vault and is studying for a PhD on Restoration London at University College in London.
ISBN: 9781250097064
ISBN-10: 9781250097064
Publisher: Thomas Dunne Books
Publication Date: 10/18/2016 - 12:00am
On Sale: 10/18/2016 - 12:00am
Pages: 304
Language: English
Categories