One for Me, One for You: Little Ideas for Caring for Yourself and the World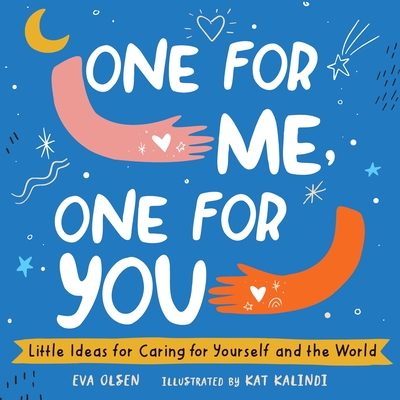 One for Me, One for You: Little Ideas for Caring for Yourself and the World
On Our Shelves Now
Shower much-needed kindness on yourself and the world, starting today!

Every simple act of kindness can travel two powerful paths: inward to refresh your own spirit and outward to encourage others. One for Me, One for You brings together ideas that can work both ways, so you no longer need to feel torn between self-care and caring for others. Cozy up with a book to nourish your soul, then pass a book on to someone you love. Take in a healing dose of nature, then inspire or enable someone else to do the same!

• Find inspiration to turn acts of kindness inward (for "me") and outward (for "you")
• Put love into action to strengthen yourself and your relationships
• Discover all the positivity you can unleash in everyday ways

Eva Olsen and Kat Kalindi's One for Me, One for You is a little book that will lead to a big change in how you see each day and the opportunities it brings.
Eva Olsen lives the good life in Fort Collins, Colorado—No. 4 on National Geographic's Happiest Places 2017 list. Her husband, twin sons, hiking with friends, and the art of hand lettering bring her much happiness. She is the author of My Little Lykke Journal: How to Be Happy by Finding the Good in the World.

Kat Kalindi is an illustrator and surface pattern designer from the sunny Gold Coast, Australia. Previously a textile designer for a fashion retailer, Kat has been illustrating for more than 15 years. She is a collector of all things cute and botanical that fill her life with color and magic.
ISBN: 9781250275578
ISBN-10: 9781250275578
Publisher: Castle Point Books
Publication Date: 09/14/2021 - 12:00am
On Sale: 09/14/2021 - 12:00am
Pages: 160
Language: English
Categories