The Coming Plague: Newly Emerging Diseases in a World Out of Balance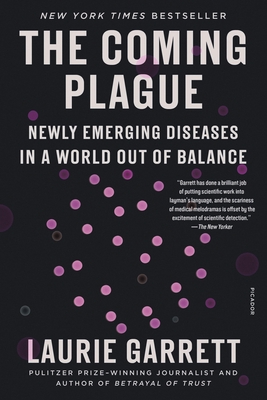 The Coming Plague: Newly Emerging Diseases in a World Out of Balance
Out of Stock In Store
A New York Times bestseller

The definitive account of the infectious diseases threatening humanity by Pulitzer Prize–winning investigative journalist Laurie Garrett

"Prodigiously researched . . . A frightening vision of the future and a deeply unsettling one." —Michiko Kakutani, The New York Times

After decades spent assuming that the conquest of infectious disease was imminent, people on all continents now find themselves besieged by AIDS, drug-resistant tuberculosis, cholera that defies chlorine water treatment, and exotic viruses that can kill in a matter of hours.

Relying on extensive interviews with leading experts in virology, molecular biology, disease ecology, and medicine, as well as field research in sub-Saharan Africa, Western Europe, Central America, and the United States, Laurie Garrett's The Coming Plague takes readers from the savannas of eastern Bolivia to the rain forests of the northern Democratic Republic of the Congo on a harrowing, fifty year journey through the history of our battles with microbes. This book is a work of investigative reportage like no other and a wake-up call to a world that has become complacent in the face of infectious disease—one that offers a sobering and prescient warning about the dangers of ignoring the coming plague.
Laurie Garrett wrote her first bestselling book, THE COMING PLAGUE: Newly Emerging Diseases in a World Out of Balance, while splitting her time between the Harvard School of Public Health and the New York newspaper, Newsday. In the 1992-93 academic years Garrett was a Fellow at Harvard, where she worked closely with the emerging diseases group, a collection of faculty concerned about the surge in epidemics of previously unknown or rare viruses and bacteria. The book was published in hardcopy by Farrar, Straus, and Giroux in 1994.
ISBN: 9781250796127
ISBN-10: 9781250796127
Publisher: Picador
Publication Date: 08/25/2020 - 12:00am
On Sale: 08/25/2020 - 12:00am
Pages: 768
Language: English
Categories
Social Science / Disease & Health Issues