Get Funded!: The Startup Entrepreneur's Guide to Seriously Successful Fundraising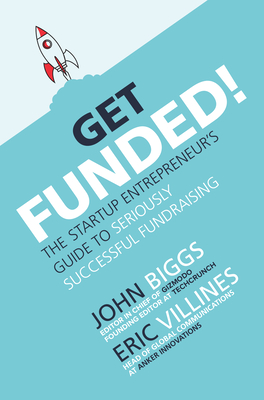 Get Funded!: The Startup Entrepreneur's Guide to Seriously Successful Fundraising
On Our Shelves Now
From a TechCrunch founder and award-winning strategist comes the most comprehensive guide to the newest fundraising options for today's entrepreneurs.
Fundraising for startups has changed dramatically in the past decade. There was a time when VCs were rock stars and a founder with a big idea and a little drive could raise a few hundred thousand dollars to build a business. But those days are gone. In the aftermath of the Great Recession and a massive drop in tech investments, it's become harder and harder for founders to raise money. The good news? Today's entrepreneurs have more options than ever before--with greater opportunities to get the ball rolling, get investors excited, and Get Funded
A comprehensive, cutting-edge guide from tech journalist and entrepreneur John Biggs and communication strategist Eric Villines, Get Funded will enable you to:

Create a solid business plan and a powerful story that investors respond to
Explore a wide range of funding options--and find the ones that are right for you
Understand valuation and dilution
Plan, prepare, and deliver the perfect pitch
Raise money through grants, micro-loans, micro-donations, and crowdfunding
Take advantage of the latest online resources and financial tools
Filled with step-by-step strategies, ready-to-use resources, and on-the-ground insights, this is a must-read for every entrepreneur. Even if you've started a business before, you'll discover a whole new funding landscape with exciting tech-driven models―including crowdfunding platforms like GoFundMe and Patreon, cryptocurrencies like Bitcoin, IEOs (Initial Exchange Offerings), micro-loans, and micro-donations―as well as more traditional, tried-and-true methods. Beyond a road map to the current world of funding, Get Funded provides proven strategies for pitching, marketing, bootstrapping, and more. It's a complete 360-degree tool with easy-to-follow worksheets and online resources that will help you build a sustainable funding strategy that's right for your business--and crucial to your success.
Whether you're starting a food truck or a biotech startup, Get Funded has got you covered.
John Biggs is the Editor in Chief of Gizmodo, a news and opinion site dedicated to technology, gadgets, and science. He has been at the forefront of the new entrepreneurial revolution since 2004. A programmer by training, he was one of the founding editors of TechCrunch, where he spent the past 12 years flying coast to coast and around the world to spread a very specific form of entrepreneurial evangelism. He has taught his methods in multiple countries and has spoken and consulted with some of the world's fastest-moving companies. Biggs has written 12,000 posts about technology, business, gadgets, and the future.Eric Villines is the head of global communications at Anker Innovations, a Chinese unicorn company and the world's premiere mobile charging company, founded by former Google senior engineer Steven Yang. An award-winning communications strategist with over 20 years of experience working across various industries, such as entertainment, consumer electronics, professional services, and finance, his work has been recognized with numerous PR and marketing awards, including the PRSA Silver Anvil, Mercury Award, Stevie Award, The Holmes Report SABRE Award, and more.