Building a Millionaire Mindset: How to Use the Pillars of Entrepreneurship to Gain, Maintain, and Sustain Long-Lasting Wealth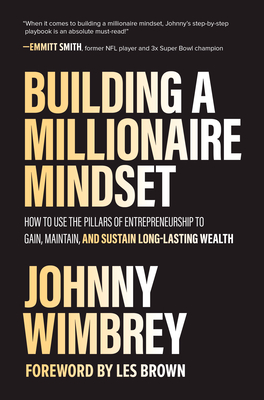 Building a Millionaire Mindset: How to Use the Pillars of Entrepreneurship to Gain, Maintain, and Sustain Long-Lasting Wealth
On Our Shelves Now
Become a first-generation millionaire using the groundbreaking mindset of entrepreneurial phenom Johnny Wimbrey
From teenage felon to multi-millionaire in a just few short years after implementing his millionaire mindset principles . .

The meteoric rise of Johnny Wimbrey is one of the great rags-to-riches / tragedy to triumph tales of our time. By seizing control of his life and developing a brand-new mindset, Wimbrey gave up the hard-core streets and a world of drugs, created a business that's now worth over nine-figures, and is presently living the life of a multi-millionaire with his family. Now, in
Building a Millionaire Mindset
, he provides the knowledge, tools, and insights you need to achieve your dreams--life-changing advice you can take to the bank, including:
Participating in Your Own Rescue
Being Busy versus Being Productive
Realizing Someone Else's Mentality isn't Your Reality
Becoming a Friend to Your Future Self
Controlling Your Emotion
Execute Versus Excuse
Banishing Your Inner Try-baby
Getting Off Your But
Building a Millionaire Mindse
t avoids the overwhelmingly complex or pie-in-the sky approach of other books by providing a "building block" approach to entrepreneurial success: Each chapter provides a task you must complete before moving on. Entrepreneurs like you have opportunities and access to the technology and information past generations never imagined. And now you have access to the secrets of one of today's top entrepreneurs.
Building a Millionaire Mindset
delivers the mindset you need to launch your business to the million-dollar mark in no time flat.
Johnny Wimbrey is a speaker, author, trainer, and motivator who works with sales teams, high-profile athletes, politicians, and other influencers around the world. After leaving behind a world of drugs and crime at 18, he launched three companies--Wimbrey Training Systems, Wimbrey Global, and Royal Success Club International--and now heads high-level leaders and a sales team of thousands in more than 50 countries, overseeing an active customer database of half a million families.
ISBN: 9781260475074
ISBN-10: 9781260475074
Publisher: McGraw-Hill Education
Publication Date: 12/03/2020 - 12:00am
On Sale: 12/01/2020 - 12:00am
Pages: 272
Language: English
Categories
Decision Making & Problem Solving