Dovey Undaunted: A Black Woman Breaks Barriers in the Law, the Military, and the Ministry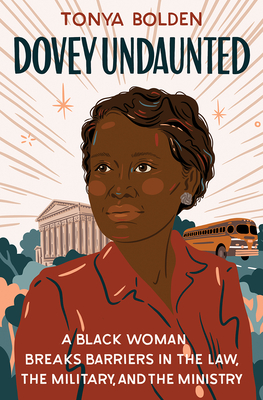 Dovey Undaunted: A Black Woman Breaks Barriers in the Law, the Military, and the Ministry
Backordered
Coretta Scott King Honor–winning author Tonya Bolden chronicles the life of an intrepid lawyer and civil rights pioneer.
Dovey Johnson Roundtree was most famous for her successful defense of an indigent Black man accused of the murder of Mary Pinchot Meyer, a prominent white Washington, DC, socialite, in 1965. Despite her triumph in this high-profile case, Roundtree continued to represent the poor and the underserved. She was the first lawyer to bring a bus desegregation case before the Interstate Commerce Commission, clinching the ruling that enabled Robert F. Kennedy to enforce bus integration. She was also among the first Black women to enter the Women's Army Auxiliary Corps, and was one of the first ordained female ministers in the African Methodist Episcopal Church.
Tracing Roundtree's life from her childhood in Jim Crow North Carolina through her adulthood, Tonya Bolden illuminates a little-known figure in American history who believed the law should serve the people, and places her firmly in the context of twentieth-century civil rights and African American culture.
Tonya Bolden is a children's writer who has authored more than forty books. She has received a Coretta Scott King Book Award honor as well as the James Madison Award. She lives in the Bronx, New York.