Land of the Spring Dragon: A Branches Book (Dragon Masters #14)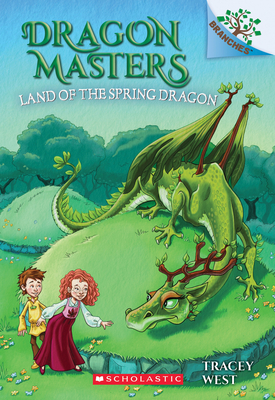 Land of the Spring Dragon: A Branches Book (Dragon Masters #14)
Likely On Our Shelves
Drake travels to a secret fairy world to save the Kingdom of Bracken!
Pick a book. Grow a Reader!This series is part of Scholastic's early chapter book line, Branches, aimed at newly independent readers. With easy-to-read text, high-interest content, fast-paced plots, and illustrations on every page, these books will boost reading confidence and stamina. Branches books help readers grow!Drake's kingdom is in trouble -- a terrible earthquake has destroyed Bracken's crops! A magical Spring Dragon has the power to save the kingdom and regrow the crops, but he lives deep inside a secret fairy world. To find the Spring Dragon, Drake must pass a series of tests given by a Dragon Master named Breen. But the fairy world is full of confusing tricks and mysterious riddles! Can Drake save his kingdom?
Matt Loveridge likes to draw subjects that expose the lighter side of life, so he loves illustrating children's books! He has illustrated several children's book series, including Dragon Masters written by Tracey West. Matt lives in Utah with his beautiful, supportive wife and their three rambunctious kids (who are a constant source of inspiration!).
Tracey West is the author of the New York Times bestselling series Dragon Masters, for Scholastic Branches. She has written more than 400 books for children, including the Underdogs series, illustrated by Kyla May; the Pixie Tricks series, illustrated by Xavier Bonet, and the perennially popular Pokémon chapter books. She lives with her husband, adopted dogs, and chickens in the western Catskill mountains of New York State.