Witness (Scholastic Gold)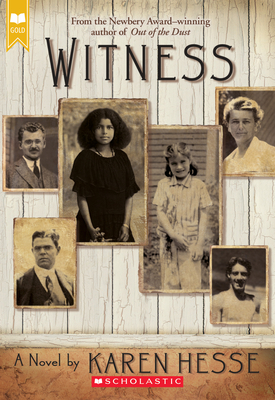 Witness (Scholastic Gold)
Out of Stock In Store (Click to Order)
Newbery Medalist Karen Hesse immerses readers in a small Vermont town in 1924 with this haunting and harrowing tale.
Witness
joins the Scholastic Gold line, which features award-winning and beloved novels. Includes exclusive bonus content!Leanora Sutter. Esther Hirsh. Merlin Van Tornhout. Johnny Reeves...These characters are among the unforgettable cast inhabiting a small Vermont town in 1924. A town that turns against its own when the Ku Klux Klan moves in. No one is safe, especially the two youngest, twelve-year-old Leanora, an African American girl, and six-year-old Esther, who is Jewish.In this story of a community on the brink of disaster, told through the haunting and impassioned voices of its inhabitants, Newbery Award winner Karen Hesse takes readers into the hearts and minds of those who bear witness.
Karen Hesse is the award-winning and critically acclaimed author of many books for children. Her titles include Witness, The Cats in Krasinski Square, and the Newbery Medal winner Out of the Dust, among many others. She lives in Vermont with her husband and two teenaged daughters.