The Legend of the Fire Princess (She-Ra Graphic Novel #1)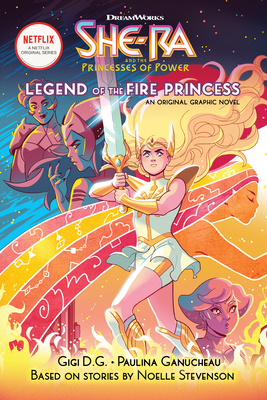 The Legend of the Fire Princess (She-Ra Graphic Novel #1)
Out of Stock In Store
Don't miss the first epic She-Ra and the Princesses of Power graphic novel, based on stories by showrunner Noelle Stevenson!
Even after everything that's happened, the world outside the Horde's walls is still a strange one to Adora. Each day she's learning more about her growing powers as She-Ra, including something new: the ability to heal corrupted runestones. Runestones are the magical source from which princesses like Frosta, Mermista, and Perfuma draw their power, but Glimmer knows of another runestone -- one with a dark past. Long ago a fire princess ruled the lands to the west, until her thirst for power corrupted her, and led to the ruin of her kingdom. Glimmer thinks the lost fire runestone could give the Rebellion an edge in the fight against the Horde, but claiming this ancient power won't be easy... especially not when the Horde has their eyes set on the same prize.Don't miss this original graphic novel based on stories by
She-Ra
showrunner and
New York Times
bestselling author Noelle Stevenson, with script by Gigi D.G. and art by Paulina Ganucheau!
Noelle Stevenson is an Eisner Award-winning and New York Times bestselling writer and cartoonist who has worked in both animation and comics. A graduate of the Maryland Institute College of Art, she is the author of the National Book Award-nominated graphic novel Nimona, currently in development at Fox Animation and slated for release in February of 2020. She is also the cocreator of the GLAAD Award-winning comic series Lumberjanes, and has written and illustrated for Marvel and DC Comics. In animation, she has written for series including Wander Over Yonder, Bravest Warriors, DuckTales, and Big Hero Six before becoming the executive producer of DreamWorks Animation Television's critically acclaimed Netflix original series She-Ra and the Princesses of Power. She lives in Los Angeles with her fiancé Molly Ostertag.
Gigi D.G. is a California-based comic writer/artist and the creator of the Cucumber Quest series.
Paulina Ganucheau is a comic artist and illustrator based wherever her computer lives (she moves a lot). She graduated from the Savannah College of Art and Design with a BFA in sequential art. She is the creator of Lemon Bird with an original graphic novel out in 2020 and cocreator of Zodiac Starforce published by Dark Horse Comics. Her hobbies include watching pro wrestling, cloud photography, and following cats on Instagram.
B.C. Peterschmidt has dreamed their entire life of being a visual storyteller. Born and raised in Minnesota, B.C began their career as a freelance illustrator, later graduating from Pratt Institute. They have illustrated book covers for Diana Wynne Jones's The Island of Chaldea and Naomi Shihab Nye's The Turtle of Oman. Their work is published in Marvel's New York Times bestselling anthology Out of the Past and also appears in Frank Beddor's Hatter Madigan series. B. C. Peterschmidt now makes their home in California.
Eva de la Cruz was born in Madrid, Spain, where she graduated in Fine Art at Complutense University. Having acquired experience from working in the animation and video game industries, Eva made her professional comics debut in the pages of 2000AD coloring Judge Dredd in 2003. Since then, she has continued to enjoy numerous collaborations with 2000AD, DC/Vertigo, and IDW. She lives in a picturesque village in Spain with her partner and a few cute cats.